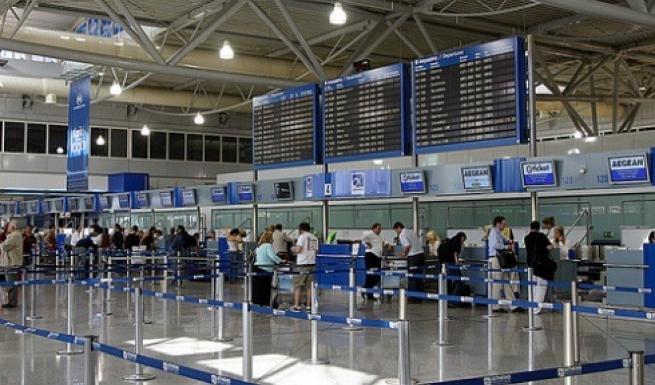 Athens, January 11, 2016/Independent Balkan News Agency
Alarm sounded shortly after 9:30 am on Sunday at Athens International Airport, where during additional random security checks it was deemed necessary to re-check a female passenger, who however had already boarded the aircraft of Aegean heading for Madrid.
The said flight landed at the airport in Mallorca, where the necessary security checks were performed to the passengers and the aircraft without detecting something suspicious, while at the "Eleftherios Venizelos" was issued a temporary ordered for the freezing of all flights that were on the ground for further checks.
In a statement issued by AIA it is stated:
"Regarding a female passenger who had been checked primarily through the special magnetic screening gates and was found "clean", during a secondary sampling of an additional security check emerged an indication, according to which her re-check was deemed necessary.
There was mobilization of the security services because of the incident, and the Athens International Airport, according to the information at its disposal, in cooperation with the competent authorities and taking into consideration the safe conduct of flights and the safety of the traveling public, indicated the fixation of all flights that were on the ground for further checks.
Meanwhile, it was found out that the said passenger had boarded the flight A3688 bound for Madrid, which had already taken off and, in cooperation with the airline was decided the emergency landing at an alternative airport (Palma de Mallorca) for re-checking of all the passengers and their baggage, in order to rule out the minimum possibility of any safety issue.
After completing all the security checks at the airport of Palma de Mallorca, there were no finds and the flight is about to depart for its final destination.
AIA apologizes to the passengers of the flight and the passengers of the morning flights that were delayed due to the additional checks that were deemed necessary for their security".
The announcement of Aegean states:
"AEGEAN has today, Sunday, January 10, been informed by the AIA for the need for additional check to a passenger aboard the flight A3 688 from Athens to Madrid. Based on this information, AEGEAN gave instructions to the commander of the flight to land the plane at the nearest airport. The aircraft landed at the airport in Mallorca "Palma de Mallorca Airport", where temporary extraordinary checks took place in the aircraft and passengers, as provided by the regulations. The checks found no problem and the aircraft departed from Mallorca to Madrid, the final destination of the flight".
For the case, according to information, the police is making a case file against employees of airport security company for not informing the police after checking the said passenger, resulting in her boarding the plane.