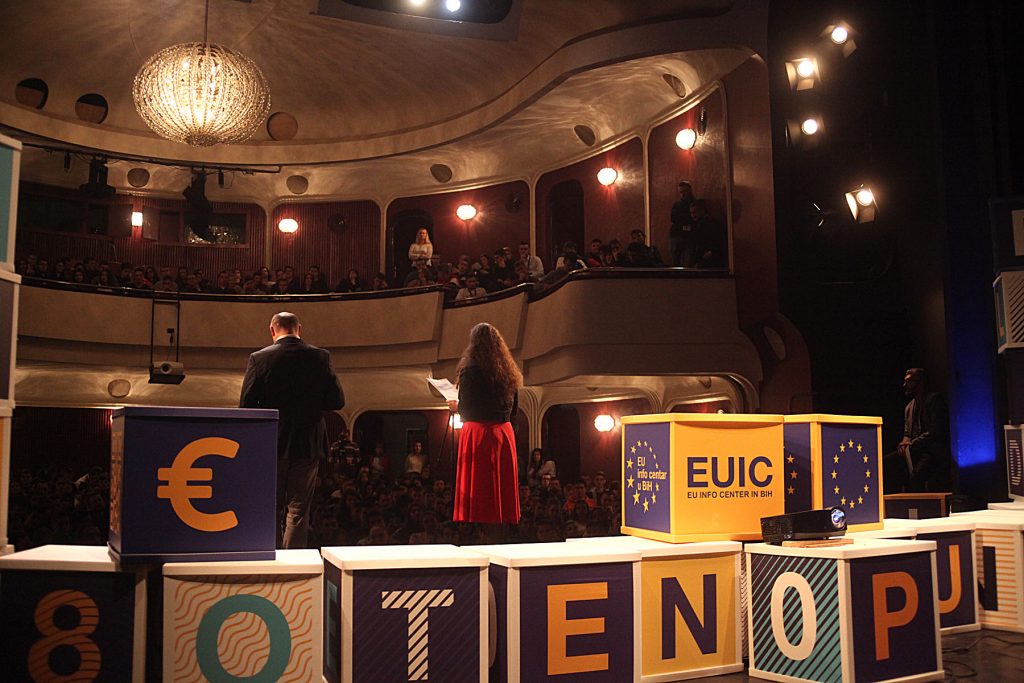 Filip, učenik srednje škole iz Banja Luke, jedan je od mnogih pripadnika svoje generacije koji svoju budućnost vidi u takozvanom "digitalnom dobu". Ima 17 godina ali već sada zna da će pokušati da pronađe univerzitet u inostranstvu kako bi studirao informacione tehnologije.
"Ja svoju budućnost još uvijek ne vidim u BiH. U Austriji, koja nije tako daleko, imamo mogućnost da proširimo naše znanje u IT i, moguće, pronađemo dobar posao," rekao je Filip za IBNA.
Razumijući da mnogi mladi misle slično kao i on, vođeni idejom digitalizacije savremenog evropskog društva koje pruža značajne prilike za razvoj karijera mladih, EU info centar, u saradnji s Bit Alijasom je organizovao prvu u nizu edukativnih konferencija "Mladi u digitalnom dobu" u utorak u Banja Luci.
"Znamo da Bosna i Hercegovina ima  nevjerovatne mlade ljude koji pomjeraju granice i stoga je bitno dati im priliku i potaknuti ih da istražuju, stvaraju i upoznaju svoje vršnjake. Ovom konferencijom, nastojimo okupiti novu generaciju digitalnih inovatora u Bosni i Hercegovini, lidere IT industrije, start-up preduzeća i mlade ljude koji se žele uvezati i učiti," istakla je Viara Valtchanova, predstavnica Regionalnog ureda u Banja Luci Delegacije Evropske unije u Bosni i Hercegovini.
Evropska unija podržava razvoj inovacija i posvećena je ulaganju u istraživanje i razvoj, kako bi se postigao veći utjecaj i unaprijedile mogućnosti za rast i razvoj.
"Svjesni smo tranformativne moći nauke i tehnoloških inovacija – naprimjer, digitalna ekonomija raste sedam puta brže od ostatka ekonomije," dodala je Valtchanova i naglasila napore Evropske unije u promovisanju razvoja povezivanja regiona i unapređenja digitalnih vještina budućih inovatora i IT stručnjaka.
"Kako bi stimulisala inovacije širom Evrope i zapadnog Balkana, Evropska unija pokrenula je Digitalnu agendu za zapadni Balkan, kao jednu od šest vodećih inicijativa za ciljeve proširenja EU u regionu, koji će podržati zemlje zapadnog Balkana u svojim naporima da se krene ka digitalnoj ekonomiji, za koju je izdvojeno 30 miliona evra investicija," kaže se u saopštenju za medije Delegacije EU u BiH.
Cilj konferencije je donijeti nove perspektive i različita poimanja ključnih pitanja upoznavanja mladih sa svim karijernim mogućnostima u IT sektoru, i generalno, u digitalnom okruženju. "Veliki broj mladih iz Banja Luke i regiona je došao danas čuti priče uspješnih mladih osoba. Njihovim pričama želimo motivisati mlade da ostanu u Bosni i Hercegovini i predstaviti im mogućnosti za izgradnju karijere," rekao je Armin Talić, generalni menadžer Bit Alijanse, vodećeg udruženja IT kompanija u Bosni i Hercegovini.
Članice IT kompanije čine oko 70% IT tržišta u Bosni i Hercegovini te su prepoznali značaj upoznavanja mladih s širokim spektrom mogućnosti u ovom perspektivnom sektoru.
"Mladi često misle da moraju biti genijalci da bi se bavili programiranjem, što naravno nije istina, i što im danas želimo pokazati. Moja priča je puna padova i uspona i njom želim motivisati mlade ljude," rekao je Ognjen Šipka, mladi programer i jedan od govornika konferencije.
Filip, sa početka ove priče, takođe je učestvovao na konferenciji. Rekao je da je to bilo dobro iskustvo id a je konferencija bila korisna.
"Ali, prije svega je neophodno da naši političari shvate da smo mi budućnost ove zemlje a ne oni. Ukoliko to ne urade, mlada generacija će pokušati da pronađe drugu zemlju za život, rad i korištenje svojih talenata," kaže on.
Konferencija u Banja Luci je okupila preko 350 učenika srednjih škola iz Banja Luke i regiona, lidere IT industrije, stručnjake za ljudske resurse i mlade IT stručnjake koji se žele umrežiti, steći nova iskustva i čuti uspješne i inspirativne priče mladih u Bosni i Hercegovini./IBNA