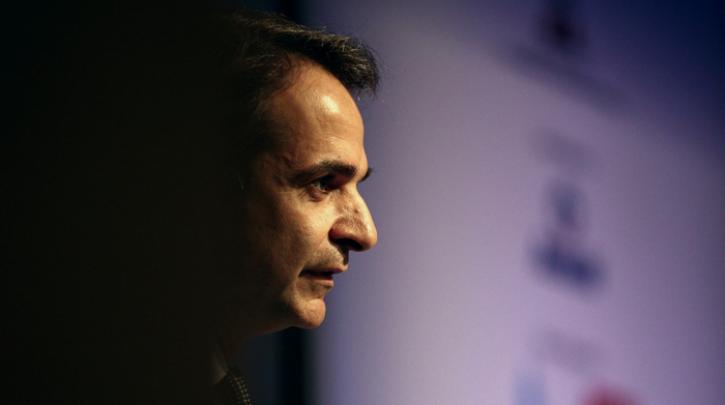 The New Democracy president, Kyriacos Mitsotakis reiterated in an interview with Belgrade's POLITIKA newspaper that the Prespes Agreement is detrimental to Greece and will not be approved by himself and his party's MPs whenever it is tabled in Greek parliament.
"I, like New Democracy, do not intend to vote in favor of this agreement in today's parliament or any other parliamentary assembly. This stance is a matter of principle" Mitsotakis stressed. The main opposition leader said he believes the deal is highly problematic and fails to address the issue of irredentism.   "The combination of the name of Northern Macedonia and Macedonian language and ethnicity is extremely problematic and this is not only related to Greece but also to other countries in the region. In a sensitive area such as the Balkans, all issues of irredentism must be closed. Our party believes that this is not achieved by the Prespes Agreement", the ND chief said.
Asked about relations between Greece and Albania in light of recent developments, the president of New Democracy called the death of Constantinos Katsifas an assassination, stressing that actions and statements that put the two countries' relations in jeopardy should be avoided in the future. "The shooting and killing of a member of the Greek minority in Albania leaves many gaps and unclear circumstances which the Albanian authorities need to explain. Some statements from their side are not helpful and we must all be careful. The relations between the two countries must be maintained and not worsened by such statements and actions," Mitsotakis said in his interview with POLITIKA.
The President of New Democracy also referred to relations with Turkey and Russia. Having described Turkey as a "difficult neighbor and unpredictable ally", Mitsotakis stressed that Ankara must choose whether it wants to be an ally and a neighbor that contributes to stability or wishes to continue to cause distrust and instability in the region. "The provocative and infringing behavior in the Aegean and the Eastern Mediterranean does not contribute to stability. Greece's position is that the faithful application of international law is a prerequisite for establishing friendship and cooperation between the two countries", Kyriacos Mitsotakis stated.
Regarding Russia, he noted that the clear Western orientation of Greece is not an obstacle to cultivating traditional relations with Russia. He also pointed out that unilateral actions that may ruin ties between the two peoples built over years must be avoided.
On Serbia, Mitsotakis stressed that it should be a priority country in the EU enlargement process, because it has made the biggest steps towards convergence compared to evert other country in the Western Balkans. For Kosovo, he reiterated that there is a consensus of all political forces in Greece not to recognize its independence, and that position remains firm.
In his interview with POLITIKA, K. Mitsotakis also referred to his party's manifesto for when it comes to power. "Our plan for economic recovery is: lower taxes and contributions, reforming of the economy and the State, privatizations and efforts to regain the trust of capital markets. We have a plan and we intend to succeed!", Mitsotakis concluded./IBNA