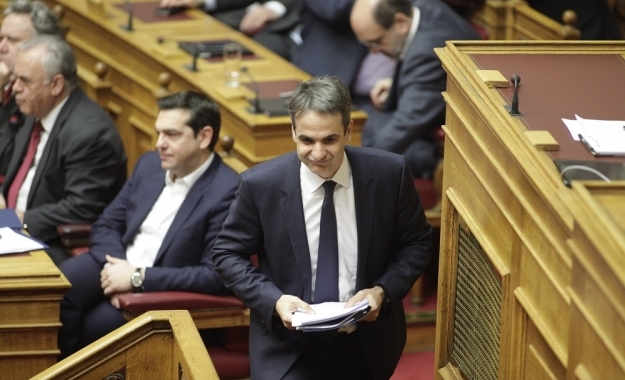 Athens, March 30, 2016/ Independent Balkan News Agency
By Zacharias Petrou
Greece's main opposition New Democracy party leader Kyriacos Mitsotakis for the first time urged Alexis Tsipras to resign and call an early election.
During a debate in parliament called by the PM on justice and corruption issues, Kyriacos Mitsotakis said:
Greece cannot take any more of you Mr. Tsipras. Since parliament cannot give the solution, let the people give the solution. Since you cannot govern you must resign. You are incapable of solving any problems, the people feel angst and anger.
In response, the PM said the government will see out its four year term.
Opening the debate in parliament on the issues of justice and corruption, Prime Minister Alexis Tsipras heralded the creation of a parliamentary committee to look into bank loans to the media and their owners as well as to political parties.
The PM attacked previous New Democracy and PASOK governments for serving and dealing with vested interests at the expense of the Greek people. He added that justice in Greece has suffered in previous years and that Syriza plans to help it recover and allow judges and prosecutors to do their job properly.
The premier refuted claims that Justice Minister Papangelopoulos intervened in the course of Justice in a case involving businessman Andreas Vgenopoulos. He also called main opposition New Democracy party leader Kyriacos Mitsotakis to take a clear stance on the accusations Stavros Papastavros, the former advisor of Antonis Samaras, faces in relation to him being in the "Lagarde List" of tax evaders.
Alexis Tsipras called the debate in parliament in order to present present examples of the ties between the "old political establishment" and vested interests in business, banking, the media and elsewhere. However, he did not make any new revelations during his speech and Mitsotakis managed to change the agenda completely by calling him to resign.
According to analysts, the Prime Minister flagged the government's anti-corruption battle in an attempt to rally support for his party and coalition partner ANEL while taking attention away from the bailout review and the refugee crisis. The debate also offered coalition partners Syriza and ANEL to strengthen their ties following recent disagreements over national issues.