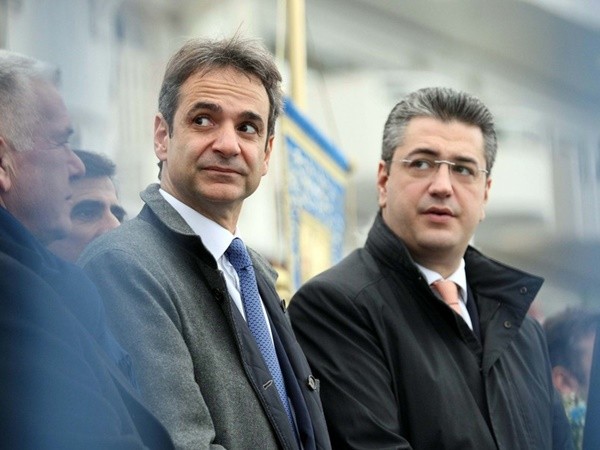 Athens, January 7, 2016/Independent Balkan News Agency
Meimarakis: I'll be a soldier if I lose
By Spiros Sideris
Side by side on the podium of officials in Thessaloniki stood the candidate for president of the New Democracy Kyriakos Mitsotakis and the Prefect of Central Macedonia, Apostolos Tzitzikostas at the ceremony of the blessing of the waters.
Indeed, according to information of thestival.gr, the two men exchanged a warm handshake during the litany in the Metropolis of Thessaloniki by Metropolitan Anthimos.
As mentioned, however, on the site, Tzitzikostas preferred to stand next to the councilors of the prefect, as required by his statutory function.
It is note that the joint presence of the two men in Thessaloniki has particular symbolic value, as it comes just days before the second round of intraparty elections in ND and one day after the statement – riddle of Apostolos Tzitzikostas, which many – Mitsotakis among them – translated as a statement of support to Mitsotakis.
Its commitment to serve the ND as a simple soldier if he loses the battle for the leadership expressed the other candidate Vangelis Meimarakis, speaking to SKAI television.
Referring to the national insurance system, he said that ND does not consent to recessionary measures, given that the same (ND) as government had left recession behind in 2014.
He noted that he is neither pro-memorandum nor anti-memorandum and he said that if he is elected on Monday he "will declare war against the austerity".
Asked about whether he will go to another meeting of political leaders, should Tsipras requested one, Meimarakis replied, "If they tell you what I would do, I would affect his decision".
He also stressed, regarding the prime minister, that "we he must take back the characterisation 'guilty' he attached to me and then I'll see if I'm going to a tete-a-tete with Mr. Tsipras".
Meimarakis attacked the current secretary of the party Andreas Papamimikos, saying that he "took the party apart".
"He could have done another job, but not that of the secretary", he said, adding: "If I feel that he should be a bouncer in Rigillis he must go".
He also supported the renewal of New Democracy, but "with meritocracy and procedures, because without them it means renewal with friends. Age can not be the only criterion".
Asked whether there will be deletion in next day, Meimarakis said: "We are open to entries".
Finally, he said that next spring "we will go to a conference with a governmental proposal. And come Monday the bodies of New Democracy will operate. The period of enrollment begins".