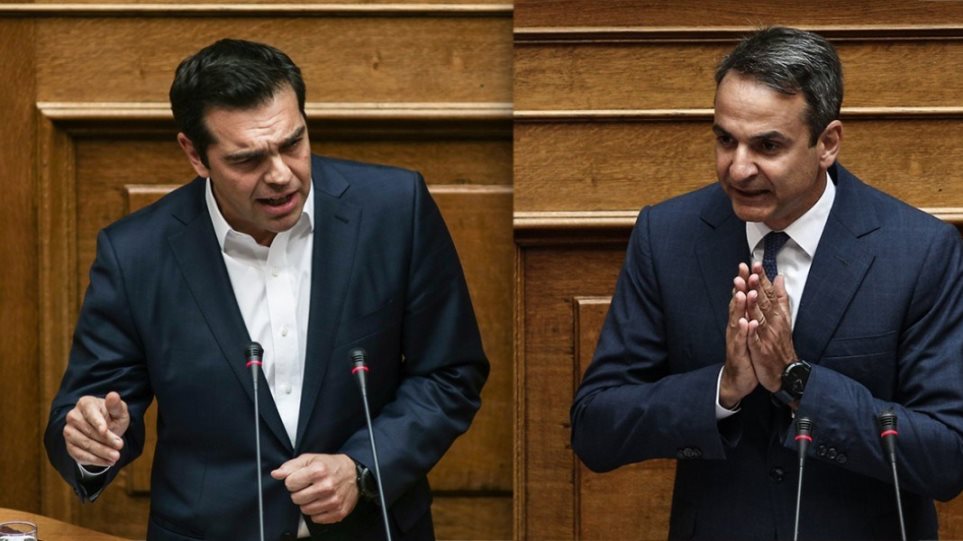 Prime Minister, Kyriacos Mitsotakis, and main opposition leader, Alexis Tsipras, addressed the Parliament on Thursday, during a debate of the latest government measures to tackle the coronavirus (COVID-19) outbreak.
The Prime Minister outlined the restrictions and measures adopted by his administration to fight the spread of coronavirus and address its impact on the economy.
He thanked the vast majority of Greek citizens for complying will the emergency lockdown and other restrictions on movement, while pointing out that more patience will be necessary as "we are at end of the beginning, not the beginning of the end" of the health crisis.
Mitsotakis went on to say April is seen as a crucial month and "we must all guard against complacency". He added that stricter measures are on the table, but he hoped their use will not be necessary.
Moreover, the premier praised efforts to boost the National Health System – via appointments of medical staff, increasing available ICUs and acquisition/donations of medical supplies – as well as the government's comprehensive plan to deal with the economic fallout from the COVID-19 crisis, via a 10 billion euro package.
The PM also called on the main opposition party to "be responsible" and refrain from "spreading fake news" or "being unfairly critical towards government actions" in the context of fighting COVID-19. He went on to praise the constructive and consensual figures within SYRIZA who voice fair criticism.
On his part, main opposition SYRIZA party leader, Alexis Tsipras outlined a series of proposals to boost the National Health System and its capacity to tackle the public health crisis. He said now is "not the time for petty political point-scoring" but it is also not the time for those specific interests that seek to use the crisis as an opportunity for profiteering and a comeback of failed policies.
Tsipras argued that Greece is in danger of seeing all the sacrifices made by the Greek people in the previous decade going to waste. He urged the government to take all necessary action to facilitate a return to economic normality as soon as possible and not postpone immediate necessary action to boost liquidity in the real economy. "If businesses close – even some large ones face that risk – they will not be able to open again", he said.
Moreover, he told the PM that his government must increase spending to tackle the coronavirus impact on the economy, pointing out that the package of measures announced thus far is nowhere near what is needed to safeguard the economy, workers and businesses from the shock they have suffered.
The former PM went on to say that this crisis is an opportunity for everyone in the county to realize the crucial importance of the welfare state and the national health system. However, he said, the main opposition should not be expected to be silent about the government's mistakes./ibna