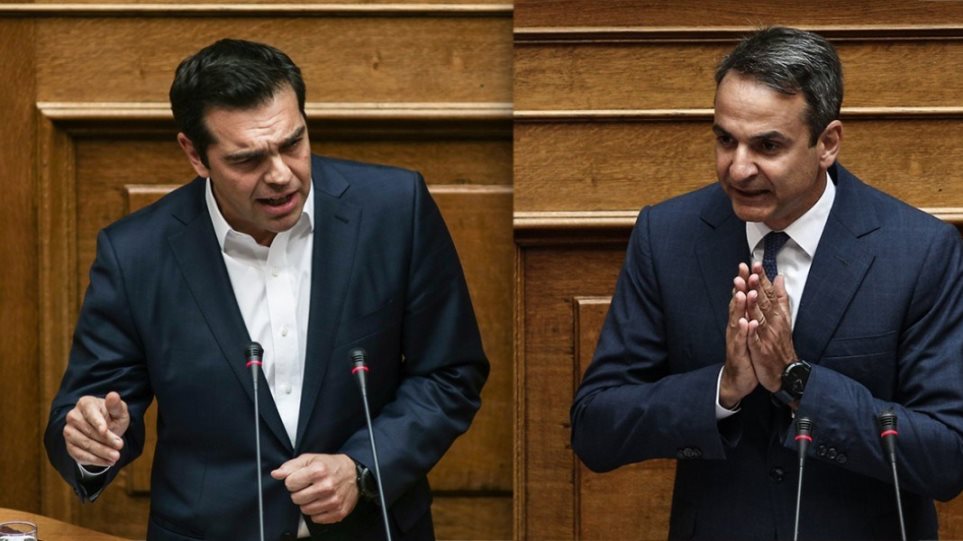 Prime Minister Kyriacos Mitsotakis and main opposition leader Alexis Tsipras clashed in parliament during a debate of a bilateral agreement with the US on Mutual Defense Cooperation on Thursday evening, over developments in professional football.
Mitsotakis called on all Greece's football club executives and authorities to work with FIFA and UEFA to change the game. "If they don't collaborate, Greek clubs will be suspended from European competition and their owners will not get any funds from playing in Europe", he warned feuding club owners.
The PM noted that if clubs fails to collaborate to reform the game, "we will be forced to suspend the Super League".
He revealed that the government will appeal to FIFA and UEFA and sign an MoU imposing rules. Supervision will be agreed with the technical support of the world football governing bodies. He added that Video Assistant Referee technology and the appointment of foreign referees will be supported.
Details of a complete government plan to reform the game will be announced next week.
Mitsotakis defended an amendment introduced by the government, which changes penalties imposed when club ownership rules are violated. The PM said that sports judges will ultimately decide which penalties will be imposed on football clubs, if they are found to have breached the rules.
Addressing SYRIZA leader Alexis Tsipras, Mitsotakis said he didn't want to go into detail about his own ties to businessmen. "Your party chose to abstain and keep silent, having nothing to propose on how to resolve these long-standing issues in Greece's football", he charged.
Speaking earlier, Tsipras mentioned the crisis that broke out in Greek football. He said PM Kyriacos Mitsotakis is personally responsible for the "ridiculous things that have unfolded in recent days, the chaos he has created in football".Tsipras urged Mitsotakis to take responsibility for his actions and stop trying to keep a balance between the "business interests that supported your rise to power" and "empowering the oligarchs whose backing you've had".
Addressing the PM directly, he said in a rather sarcastic tone: "You cannot even handle a feud between feuding business, media and football club owners over footballing matters. How can anyone hope you can handle Turkish president Erdogan or deal with more serious issues"?
Tsipras was highly critical of the government's alleged meddling with the composition of the Professional Sports Committee that ruled Super League clubs PAOK and Xanthi should be relegated after breaking ownership rules.
Alexis Tsipras said the government failed to make sure citizens are not divided by footballing affairs, especially at a time that the country is in absolute need of unity. Finally, the SYRIZA leader argued that Greeks are concerned about the government's handling of a series of issues, ranging from foreign affairs to the economy and labor rights./ibna