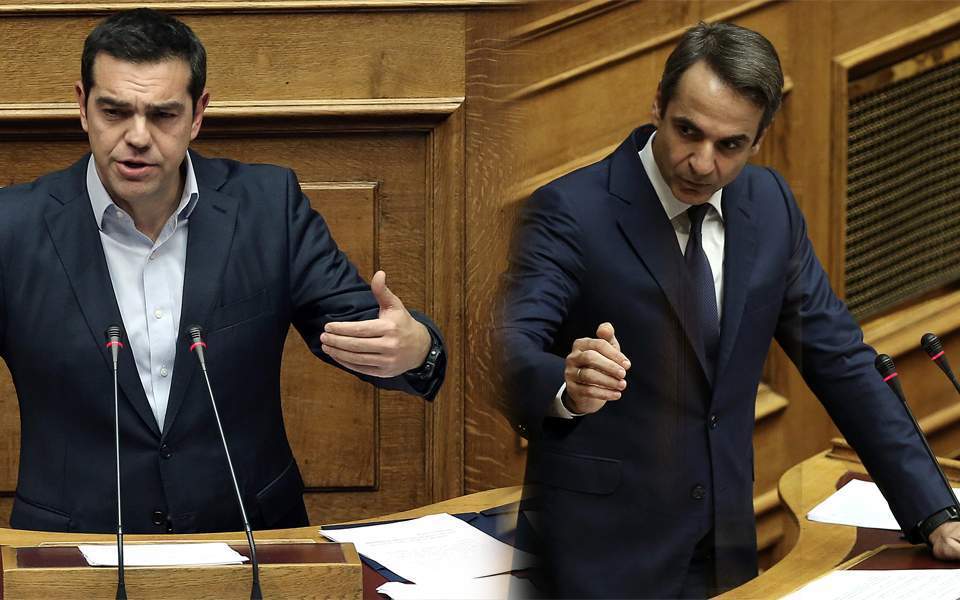 A three-day parliamentary debate of the newly-elected New Democracy government's policy program for the next four years got underway in Greek parliament on Saturday. The debate will culminate in a vote of confidence in the Kyriacos Mitsotakis administration on Monday night.
Addressing MPs for the first time as premier, Kyriacos Mitsotakis outlined his conservative government's policy priorities and goals, especially focusing on a series of measures to be adopted as part of an overhaul of the country's taxation system.
New Democracy will table ten draft bills to the House until the end of the year, to push through interventions in key policy areas, the PM revealed, starting with a tax reform bill this week.
Outlining his plans for the economy, Mitsotakis said he is devoted to real reforms and boosting investment, adding that fiscal balance will not jeopardized and targets agreed by the previous government will be met. "Effectiveness and reliability are key words for our government […] in terms of implementing an ambitious plans of which we will have ownership […] making Greece a positive surprise within the Eurozone".
Most notably, Mitsotakis presented a series of tax reductions, including taxation on businesses that will be reduced to 20% in two phases. In September it will drop to 24% for 2019 income and dividend tax will drop to 5% from 10%, he said. He revealed that two relevant draft bills amending tax policy will come to parliament imminently.
Additionally, the PM said the unpopular ENFIA property tax will be lowered by 22% on average, starting this year.
He added that in due course he will seek to renegotiate and reduce the agreed primary surplus targets, in order to boost growth and introduce lower taxes.
Mitsotakis said the 7th July general election led to the closing of a cycle of crisis, with Greek voters denouncing the lies of the populist, anti-memorandum rhetoric. The premier said his government will seek to address "the real causes of the crisis", ushering in a "new patriotism […] with unity at its core" that will allow the Greek people "to make a leap towards the future".
Following his address, opposition party leaders were quick to criticize the new premier's approach, with main opposition SYRIZA party leader sounding alarm bells for the economy, welfare and social security. He went on to urge Mitsotakis to reveal how he will fund promised tax cuts while meeting 3.5% primary surplus targets.
Tsipras pushed the PM to analyze his policy program further and tell the Greek people if he plans to abolish benefits introduced by the left-wing SYRIZA administration in recent months and whether or not the income tax free threshold will be slashed.
Moreover, Mitsotakis's predecessor said he will defend his government's record in power and his achievements as PM, adding that SYRIZA will, however, support the New Democracy government when it is in the national interest to do so./ibna