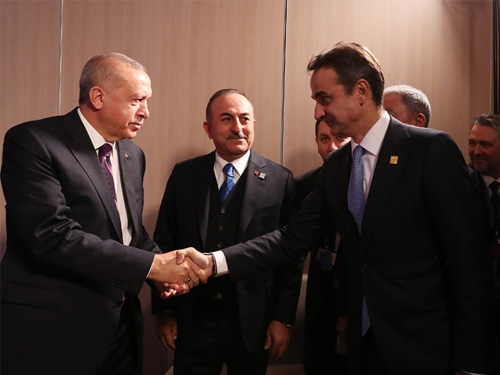 Turkey's Agreement with Libya was discussed during Prime Minister Kyriakos Mitsotakis's meeting with Turkish President Tayyip Erdogan, after the NATO Summit was completed.
Immediately after the meeting, which lasted for an hour and 35 minutes, the Prime Minister stated: "I brought to the table all issues arising from the latest Turkish actions. Disagreements on both sides were recorded. They both, however, agreed to continue discussions on the Ministry of Defense's CBMs", Mr. Mitsotakis concluded.
According to Greek government sources, an open and genuine discussion was held, with the Greek Prime Minister making it clear that the Turkey-Libya Agreement is a legally invalid settlement, that further increments the complexity of an already troubled neighborhood. The same sources denied information circulating in the Turkish media about Mr. Erdogan presenting the contents of the Agreement. During the meeting, there was also extensive discussion about the refugee issue, with the Greek Prime Minister pointing out to Tayyip Erdogan that there has been a change in Turkey's attitude lately, as the Turkish port does not respond to Greek demands for the collection of migrants leaving the coast. Mr. Mitsotakis reiterated his will, however, for Greece to support the Turkey-EU agreement.
In his statement, the Prime Minister also added: "I have instructed the Minister of Foreign Affairs to convene the Supreme Foreign Affairs Council, to keep all parties informed. I want to assure the Greek people that there have been and always will be difficulties in our relations with Turkey. However, my take is that, as long as both sides show willingness, those barriers can be eventually overcome".
From the Greek side, the meeting was attended by Minister of Foreign Affairs Nikos Dendias; Minister of National Defense Nikos Panagiotopoulos; Director of the Diplomatic Bureau of the Prime Minister Alexandra Papadopoulou; National Security Advisor Alexandros Diakopoulos; the director of the Prime Minister's Press Office, Dimitris Tsiodras. /ibna