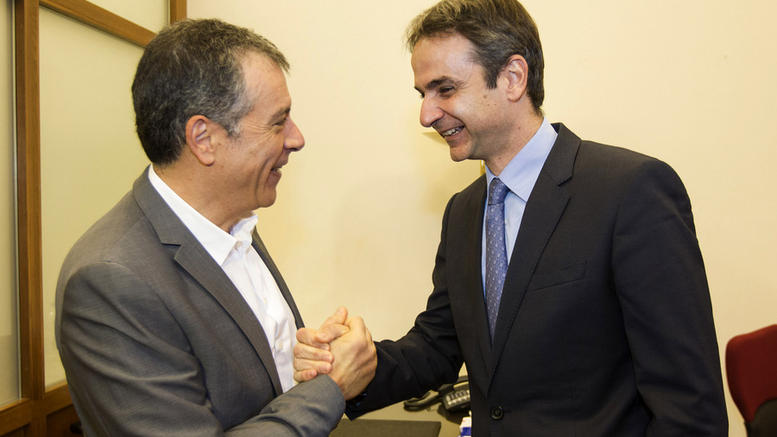 Athens, January 22, 2016/Independent Balkan News Agency
By Spiros Sideris
The president of New Democracy, Kyriakos Mitsotakis, met with the head of The River, Stavros Theodorakis, on Thursday. In the dialogue they had in front of the television cameras, Mitsotakis told Theodorakis that it is important that the pro-European reform forces make dialogue.
"I have recognized, in your overall effort, the aversion to populism, something I wish to point out in particular", said the president of ND. "It is useful, not only for us to feel good, but for the society to feel secure that there are some people who are determined, despite their differences, to walk together for some major reforms for the country. And this is a message we should send to our disappointed people, who fears that we are going from decline in decline", said for his part the head of The River coming to the meeting. "There is no other way. The path of reforms and we will discuss on where we agree and where we disagree on these reforms", Theodorakis said.
"I think it is important for the pro-European reform forces of the country to make dialogue, because we have very difficult issues in front of us. I have recognized your overall effort to avoid populism and to emphasize on honest speech, something I wish to point out in particular", K. Mitsotakis said going in.
According to circles of ND, the meeting took place in a very good atmosphere and both sides, albeit from a different perspective and different estimates, agree on the need for reforms and development, as well as the need to consolidate the state. The same circles claim that there was a common recognition that this government is bad for the country.
On the agenda of the meeting were the issues of education, social security, the electoral law and the constitutional review. "We believe that the way they conversed and the attitude of both, and they agreed on that, helps to upgrade the political dialogue", say sources from ND and add that the common conclusion of Mitsotakis and Theodorakis was the attempt of the government to take over the state.