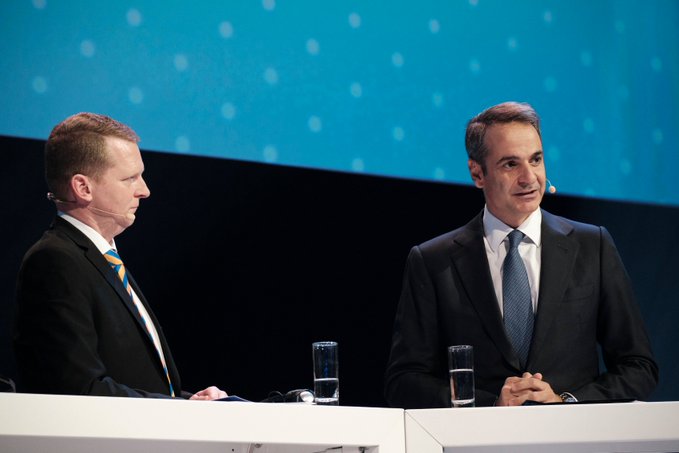 Prime Minister Kyriakos Mitsotakis spoke at the EPP Conference, urging Europe to respect the EU-Turkey agreement and to change the "Dublin Regulation, which has been sadly proven inadequate to tackle the problem".
He put some blame on Turkey, saying that "the recent large increase in the number of immigrants crossing the Aegean is unacceptable. It is also, unfortunately, indicative of the fact that immigration is also used as a tool for international pressure. We must recognize that Turkey is home to millions of refugees, while making it clear at the same time that Europe will not be blackmailed on this issue. It is time for fewer irresponsible statements and more genuine dialogue".
Mr. Mitsotakis referred to the two most important challenges Europe faces, as the new European Parliament and the new European Commission begin their term: "immigration and the protection of external borders. Let me be absolutely straight. Europe can no longer pretend that this issue only affects Member States with external borders".
Addressing the new Commissioner-in-Office, he said: "dear Margaritis, Mr. Vice-President of the Commission, as you take over this important portfolio we wish you good luck; you are well aware that a new, Common European Asylum and Border Protection framework should be your first priority". He talked about the government's actions: "We, as Greeks, have more than fulfilled our task. As a new government, we have already changed asylum legislation so that we can process applications more effectively. We are creating new pre-departure centers in our islands. We are addressing the burning issue of unaccompanied minors. And, of course, despite the completely unfounded accusations, we still rescue hundreds of people at sea every month. But we are now reaching our limits. The first host countries should not have to bear the burden of immigration pressures on their own".
Apart from that, Mr. Mitsotakis once again repeated his speech regarding his victory over populism, and promised a bright future for the Greeks: "… After years of recession and difficult days, the Greeks are again looking to the future with greater optimism… Already during those first months we have fulfilled our promises and our intention is to keep pace with our reform work. We have no time to lose because we have to make up for the lost time during the 10-year crisis. The message is clear. Greece is no longer the "black sheep" of the Union. Instead, it is a confident country, with a solid center-right government, ready to embrace the opportunities of the future". /ibna