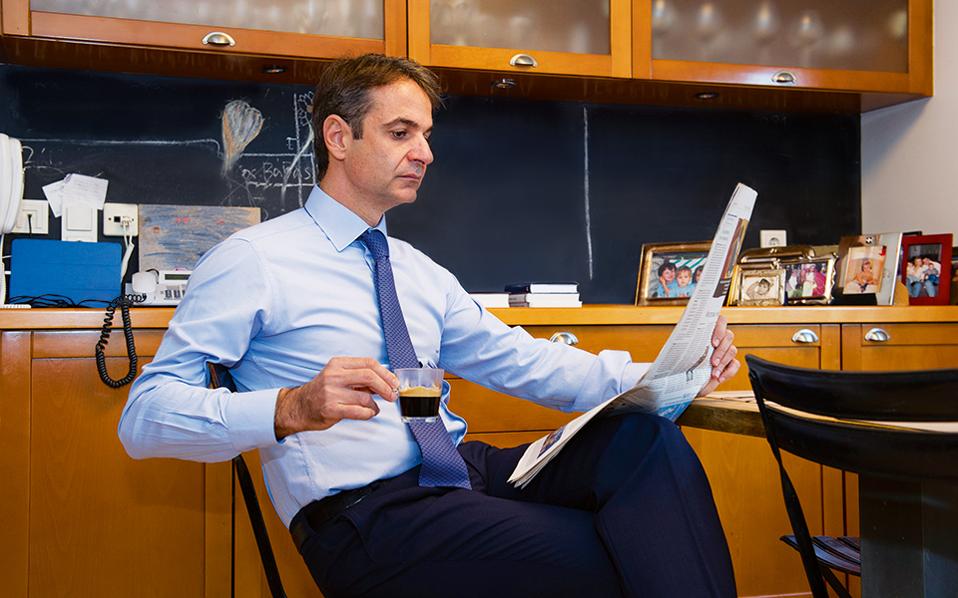 When Kyriakos Mitsotakis was the surprise winner of the January 11, 2016, internal party elections for the Presidency of New Democracy, many believed that he might manage to be a strong opponent against Alexis Tsipras who had three consecutive electoral successes in 2015.
Although, many had emphasized the difficulties that would entail because of his involvement in the Siemens scandal and because he was the son of former Prime Minister and President of New Democracy Constantine Mitsotakis, his mild political stance gave him reason to be considered a worthy opponent against Tsipras.
For Kyriakos Mitsotakis after being the leader of New Democracy for one year, despite the fact he has taken his party to first place at the polls with a double-digit lead over Syriza, he still has to convince the people as to what he really wants to achieve. It seems that it is more evident that Tsipras is losing at the polls rather than Mitsotakis actually winning.
The reasons are many. In the Samaras – Venizelos government, as the Minister of Administrative Reform and e-Government he was accused by some media that he undertook the mission to lay off 15,000 government employees, creating a vacuum in services  that would then operate as an indirect invitation of outsourcing services to the private sector.
Following his win as President of ND, he tried to remove executives that were loyal to former President Costas Karamanlis, while he looked towards people of a "doubtful" quality and skills, thus transforming the ND Party from a Right wing Party to a neoliberal one. Something that has not been accepted by the hard liners of the party, nor from its former leaders, who continue to be in politics.
His obsesion to a logic of a "here and now" elections, a choice that was made during the party's rallying effort, has led him to hasty attacks against the SYRIZA-ANEL government, which has more often than not come back at him.
It is no coincidence that Kyriakos Mitsotakis, has become Alexis Tsipras' target, as he is vulnerable both because of the Siemens scandal, and for the non-repayment of a loan he had taken out for the family newspaper "Herald of Chania".
His attempt to try and point the finger at the Government, by trying to find "scandals", takes away from any valuable time he should be spending in organising a political plan for governing the country, if he wins the upcoming elections, and entraps him in the logic of a continuous search for uncovering scandals.
But most of the time, he finds himself exposed, as in the case with the Prime Minister's trip from Lisbon to Paris on January 30, which was denounced by the ND as a family leisure trip taken by Alexis Tsipras, when in fact, as it turned out, it was a journey made by the Prime Minister in the framework for investment contacts.
Meanwhile a SYRIZA leaning newspaper revealed that Kyriakos Mitsotakis' wife, has bought a house in Paris and maintains, according to reports, a joint company with Stavros Papastaurou who was involved in the Lagarde list and the Panama Papers and is former Adviser to ex Prime Minister Antonis Samaras. Although having a company or buying a home is not objectionable, that the wife of the ND president has not disclosed her assets which is expressly needed by law for politicians, is a criminal offence.
Kyriakos Mitsotakis' presidential term in ND, is slowly turning from joy to nightmare both for himself and for the main opposition party, which as much as it tries to, cannot be rid of its "shady" past./ΙΒΝΑ