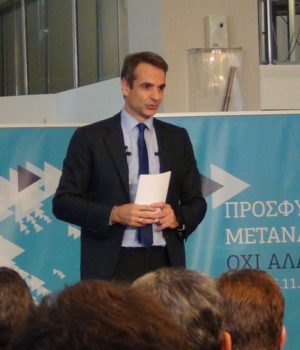 By underlining that his party, New Democracy (ND) will not tolerate having islands that look like long-term "parking spaces" of souls, due to the high number of migrants and refugees "trapped" there, Kyriakos Mitsotakis, the main opposition head, spoke on Thursday, November 16, from the Northern Aegean island of Chios, which has been turned into such a "parking".
His Chios speech is part of a wider circle of similar pre- ND conference speeches. It is true, that Chios, exactly like Lesbos and Samos –all of them Northern Aegean islands whose shores are very close to Turkey's thus migrant dinghies are easy to reach them- have undergone and are still under tremendous social pressure due to the inflow of migrants and refugees.
Both the migrants and local society of Chios feel suffocated by the situation and the inability of the state to act accordingly and find a permanent and viable solution to this humanitarian issue. The ND president stressed that he raised the issue at the European Parliament when he spoke to MEPs in the European People's Party.
Mitsotakis accused the government of having absolutely no plan to deal with the refugee crisis. "Or rather, he (Alexis Tsipras) had a plan to adopt an open-border policy, to make Greece a centre for transporting refugees and immigrants to Western Europe. (He wanted to) Reject the central authority which says that there are borders even at the sea. Not only on the land. We do not forget Mr Tsipras' statement that the sea has no borders," he added.
Kyriakos Mitsotakis also noted that the application of law and order is neither right, left, nor centred politics. It's proper politics. "It is the minimum obligation of a State to its citizens. You can get out of your homes, feel safe. Security is a prerequisite for freedom, and it is a prerequisite for doing business," he said…/IBNA