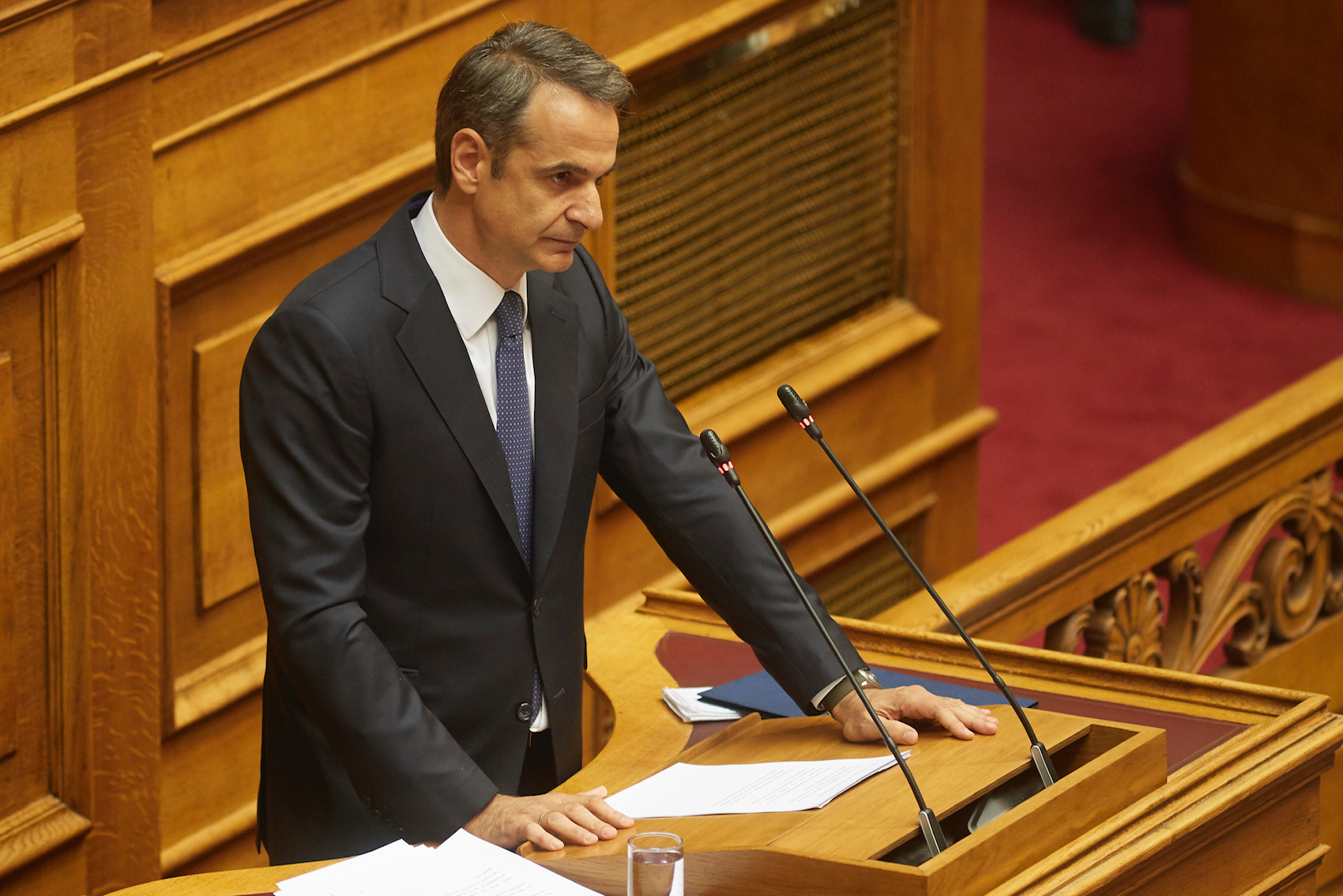 "The asylum bill completes the filling of a major gap; Greece finally acquires a clear, structured and functioning Asylum System", Prime Minister Kyriakos Mitsotakis said at the beginning of his speech in Parliament, and went on to attack the previous government: "It was exactly those void spaces and contradictions in this area that allowed for mistakes, delays and often scenes of chaos up to this point. Everyone knows what the new government has taken on its shoulders -from the moment it took the wheel- that is, thousands of people stuck on the islands and scattered on the inland. Problematic structures, such as Moria. Nearly 70,000 asylum applications remain pending. And, despite the huge research expenses by OLAF, only 22% of European resources have been fully utilized".
Continuing the attack, he said: "Everyone also recognizes that such a complex problem is easier to deal with at its onset than five years later. That the illusion of 'open borders' requires organization in order to adapt to the realistic policy of 'safe borders'. That the obsession with the "immigrants who bask" takes courage and time to transform into a everyday life of "state and citizens who care".
He referred to the bill's arrangements:
– First, it codifies five different laws, one Presidential Decree and dozens of scattered provisions or directives. All this is in line with community law and the judgments of the European Court of Justice
– Second, it simplifies and shortens the process of real refugees been granted asylum, giving priority to children and families. In fact, it provides immediate access to Healthcare and Education.
– And third, it integrates those who seek protection into a context of respect and cooperation with the Greek authorities. Those who will opportunistically seek asylum but are disrespectful towards the country have no place here.
He continued: From now on, each application should be examined within six months instead of nine, as it is currently in force. The decision should be disclosed to the person concerned within 10 days instead of 20.
However, in the event that in the meantime the applicant does not cooperate with the Authorities or has left the country without authorization, the request will automatically be declared unfounded and they will of course become subject to departure.
The stay of anyone found not to have applied for protection immediately upon their arrival will also be suspended. If they concealed assets or violated the rules of operation of the domain where they reside. From the conditions of vulnerability, the general "post-traumatic stress" is eliminated, for which you all know it is difficult to get a diagnosis from doctors and which, to put it simply, has become a fabrication so that many may can falsely claim to be classified vulnerable and transported to the inland. On the contrary, in the 'vulnerable' and under protection category all minors – not just the unaccompanied are now included.
Summing up, he said: In the national field, we serve three needs: We protect our borders, we save lives in the Aegean, and we depressurize the islands of the Eastern Aegean. Already in our seas we are putting into force a modernized monitoring system. The Port patrols are increasing. We supply more thermal cameras and more flexible high-speed, floating means. Our goal remains the same: No lives lost in the Aegean, but also not one inch of our waters without control. At the same time, in cooperation with the Ministry of Interior Affairs, the Local Government and with the operational support of the Ministry of National Defense, we are promoting the systematic relief of our islands by inward refugee transport. In this effort we want the cooperation of the Municipalities and the residents of the local communities. I have said many times that they should never be caught by surprise … This policy is complemented today by the asylum bill. A bill that, among other things, emits a clear message: "That is Enough" with those who know that they are not entitled to asylum, but nonetheless try to enter and stay in our country. They will soon return either to Turkey on the basis of the Joint Declaration or to their country of origin. They will lose the money they gave to the miserable circuits of traffickers. /ibna