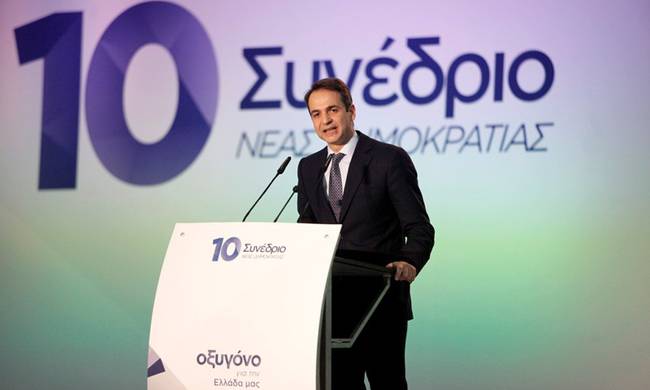 Athens, April 24, 2016/ Independent Balkan News Agency
By Zacharias Petrou
Closing the works of the 10th New Democracy (ND) party congress, leader Kyriacos Mitsotakis said time is running out for the Syriza-ANEL coalition government and the conservatives will soon be in power again.
Mitsotakis said the congress of the conservative party signifies a new beginning for the patry itself but also for the country. The ND leader focused on what he called a "new agreement of truth" with Greek citizens that would come into effect as soon as "the most dangerous government the country has known in the post-dictatorship era" has gone.
Immediately after the end of the conferece, New Democracy published a set of 25 policies that constitution the party's program. The list included taxation reforms, incentives for investment, making the civil service more effective, providing soladirity to the poor, reforming education and strengthening the police.
Over the two-day conference, Mitsotakis presented a set of proposed amendments to the party's charter aiming at strengthening transparency and revamping party structures. Changes include limiting the party leader's maximum tenure to five years; banning party officials from holding public office; establishing an annual conference that will bring together 1,000 elected and 1,000 ex officio delegates; evaluating ND MPs; and banning bank loans to finance election campaigns or operational needs.
Describing his vision, the New Democracy leaders said: "United we will bring oxygen to our Greece that is suffocating and in danger". The main opposition leader promised that he will only speak the truth "as hard as that may be".
Should New Democracy come to power again, the main opposition part leader stressed it will bring a new creative cycle of reconstruction and build "a new Greece, on solid foundations this time".
Heavy criticism was also aimed at Prime Minister Alexis Tsipras. Kyriacos Mitsotakis pointed out that the PM has managed to sign two MoU's with creditors in a matter of months because nobody believes a word he says. "This government has buried the hopes of the Greek people three meters into the ground" he said, adding that his party demand an election for the sake of the country. He urged the Tsipras-administration to step down for the good of the country.
Much of Mitsotakis's speech focused on the distinction between lies and truth. The principles Mitsotakis described as staples of his leadership are: growth, meritocracy, solidarity, excellence and trustworthiness.
The conservative leader attempted, according to analysts, to appear determined to put an end to populism and flag the government's inconsistent record in power, considering the Syriza and ANEL pre-election pledges.
In his first party congress as New Democracy leader, Kyriakos Mitsotakis also focused on capitalizing on the government's record in handling the economy, putting across the message that his party could lead the country out of the economic crisis.
"We represent the large social and political majority that can pull Greece out of the vicious circle of the current decay," Mitsotakis stressed.