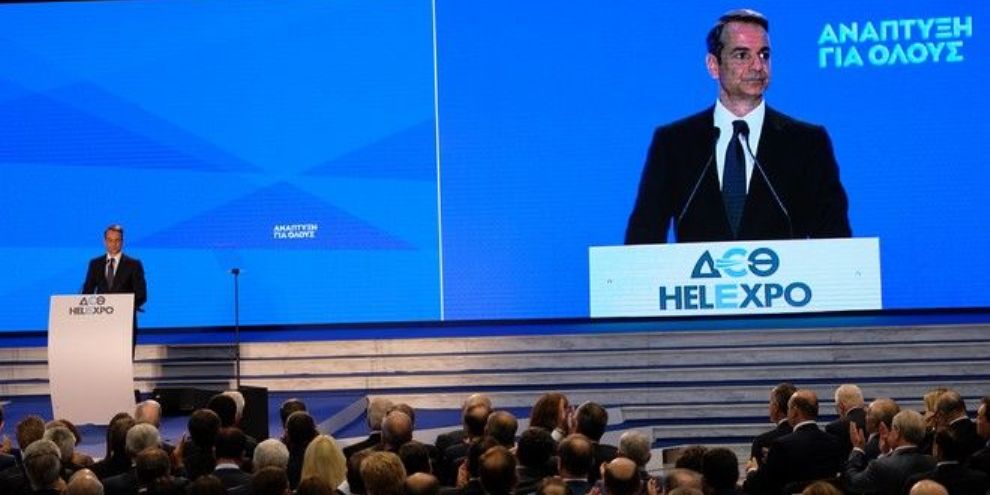 With his motto being "Growth for All, Growth Everywhere", Mr. Mitsotakis revealed his government plan, while presenting the tax and insurance reliefs he has decided upon, as well as the large investment projects that are currently underway. At the same time, from the same spot he had called for a deal of truth, he now called the citizens to an "Agreement of Creation, Action and Result, an Agreement of Regeneration and Progress".
Mr. Mitsotakis avoided referring to foreign policy, while he briefly mentioned the Macedonian issue, in the context of the protection of Macedonian products. His remarks were also short when it came to Security issues -including recruitment of police officers, DIAS and DELTA forces – Education, with reference to the labor market and the abolition of the asylum, and Health, with the announcement of 2,500 recruitments.
His comments regarding his political opponent were also concise. "We do not forget, but we do move forward", the prime minister stated, adding that Greece is no longer considered Europe's black sheep, but is rather a confident country actively involved in European affairs, that does not just speak for its own problems, but much more seeks common solutions against our continent's grand challenges.
"Economy and Development are the key to the country's every step, a condition for its security and prosperity, but also our central ideological difference with its political rivals", while adding that "a prudent fiscal policy will follow, each measure will be thoroughly costed. At the same time, however, we will focus strongly on investments, in order to generate new wealth and stimulate employment".
On the pivotal issue of primary surpluses, he mentioned that "With a bold wave of reforms, we will gain strong credibility and at the right juncture, building on our positive results, we will claim more realistic annual primary surpluses".
Mr. Mitsotakis outlined the four main areas which will be significantly linked to Growth: Tax Relief, Investments, Relations with the job market, and Productive Digital State.
Tax reliefs
"The tax-free measure is maintained, while the rate for incomes up to 10,000 Euros will be reduced to 9%, from today's 22%. The tax on new farming schemes will be fixed to just 10%. A new law on agricultural cooperatives will be tabled to Parliament immediately. The corporate tax is reduced from 28% to 24%; and in dividends from 10% to 5%. VAT will be suspended for 3 years on new buildings; and a 40% discount on the cost of renovating or upgrading buildings is also offered. Meanwhile, property tax is also suspended. In the medium term, though not in 2020, we will abolish the trade tax and the solidarity levy. In the year 2020, an allowance of 2,000 Euros will additionally be given for every new child, with the exception of those belonging to an extremely high income category. Baby products, as well as helmets and baby seats are subject to a reduced VAT rate of 13%. An additional tax free of 1,000 Euros per child is provided; alongside monthly support of 180 euros for kindergarten. Finally, the extraordinary retirement allowance, which was paid earlier this year as a pre-election "Christmas gift", is maintained. It will be paid at the end of 2020.
Growth
When it comes to growth, he stated, investments that have been long lost in bureaucracy and political indifference, have now been unblocked. Privatizations at PGC, Hellenic Petroleum and Athens International Airport are immediately pursued. Regarding the latter one, it is a matter of days for the Greek government to begin the procedure of selling 30% of the stocks, that belong to the State. PPC's reclamation plan has been set to motion; and let us not forget that, after four whole years, we are finally done with capital controls! Still referring to the field of growth, he added: "Even before 2019 is over, many dynamic business plans are being rapidly promoted. Many new investments are already under way in the field of Tourism, with typical examples the projects in Kassiopi, Afandou and Elounda. Yet, "Growth for All" also means the development of small and medium-sized enterprises … More favorable conditions are immediately put in place, in order to attract strategic investment. Environmental licensing is simplified according to European standards; and it becomes easier for business parks to be set up. With the purpose of informing and attracting investors, a Countrywide Infrastructure Register is introduced; and also a Single Digital Map, including defined uses, building factors and properties".
Labor issues
The country is in need of a modern, secure and flexible labor market, with rules for employers, strict fines for those who violate the law, but also with conditions that improve the competitiveness of businesses, the prime minister said. He then went on to declare gradual reduction in insurance contributions by 5 units starting July 5th, 2020, up until 2023. By the end of 2020, an approximately 1-unit reduction will be achieved. Be careful though, this only applies to full-time employees.
Digital state
As for the digital state, he added: The 21st century requires first and foremost a fast, efficient and productive Digital State, in the interest of the citizens, the prime minister stated, while stressing: "Our first action will be the Bureaucracy Observatory, built to transposition the administrative burden that occurs as a result of the Administration's laws or decisions, for businesses, citizens and employees. Before the end of the year, there will be a tender for the project of the new IDs, which will include not only a photo and some of the holder's data, but will incorporate a sophisticated digital signature infrastructure, that will allow for the so-called 'remote identification' to be realized. This way, we will be able to safely access public services from home or work./ibna