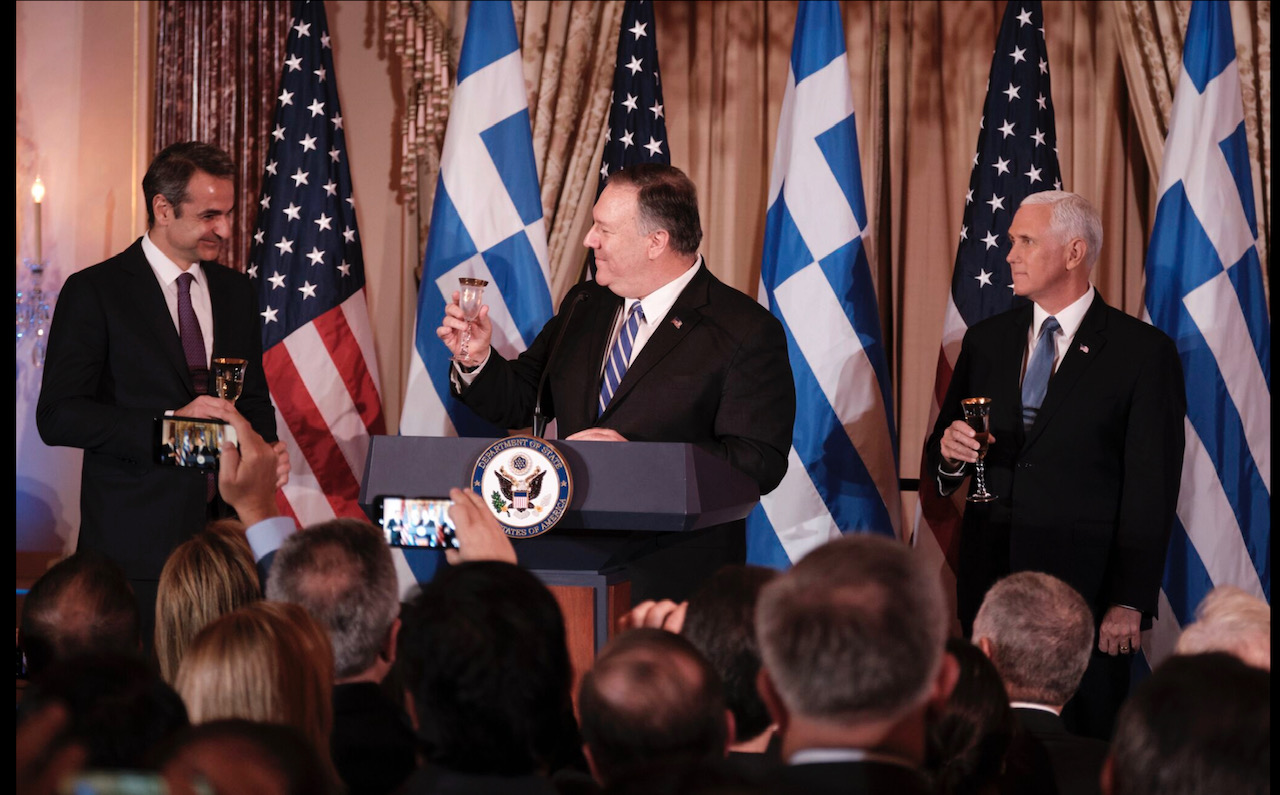 Upon his return from an official trip to the US, Prime Minister Kyriacos Mitsotakis will meet Greece's political party leaders in Athens on Friday, to brief them on the outcome of his visit and its implications on foreign policy amid rising tension in the Eastern Mediterranean.
According to analysts, the Greek premier visited the US with two clear messages to put across: firstly, that Greece will defend its sovereign rights against any provocation and violation of international law; and secondly that the country is ready for business again, as investors can trust reform and efforts to promote growth will continue.
After meeting with US President Donald Trump on Tuesday evening, on Wednesday the Greek PM attended a dinner at the State Department in his honor, hosted by US Vice-President Mike Pence and Secretary of State Mike Pompeo.
Addressing a speech, Mr. Mitsotakis said Greece-US relations were never stronger. He went on to reveal that he spoke with Messrs. Pence and Pompeo about geopolitical developments in the Eastern Med and the challenges facing Greece. Mitsotakis said he was certain the US will stand beside Greece as it defends its sovereign rights and seeks to achieve economic growth for all its citizens.
Focusing on the economy, Mr. Pence praised Greece's efforts to sustain economic recovery, reduce red tape, make the State more effective and boost employment. On his part, Mr. Pompeo stressed the importance that Greece-US ties extend to energy, adding that Washington supports the Mediterranean country as a "pillar of security" in the region.
Meanwhile, in an interview with the Financial Times, Kyriacos Mitsotakis expressed his confidence that Greece will be able to attract the foreign investment it needs to spur growth, adding that this could come in at 3% this year.
"I think we are in the process of breaking out of a vicious cycle, and sort of putting Greece into a virtuous cycle," Mitsotakis told the FT. "There's no doubt [about] what I hope will happen to the country, and I think what we really need is radical change, to really turn Greece into a true success story. We cannot just afford to muddle through, we've lost too much time and too much GDP, frankly, and too much energy as a country to do that."/ibna