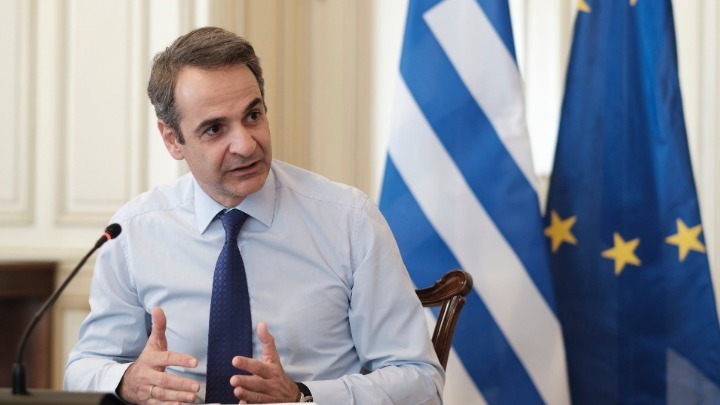 Athens welcomed a European Commission proposal for a major recovery plan which was presented on Wednesday. Prime Minister Kyriacos Mitsotakis said the proposed program was "very ambitious" and he expected Greece to "significantly benefit" from it, if it is finally approved by member-states.
According to estimates, Greece stands to receive about 32 billion euros in total, if the program is approved.
"What the European Commission is proposing is not just positive for Greece, but for the European project in its entirety. […] I hope this is an opportunity to do something really bold, which in some way bolsters the European project", the Greek premier said.
Moreover, Mr. Mitsotakis pointed out that the coronavirus crisis cannot be overcome by EU member-states without a "super weapon", adding that both the European Commission and European Central Bank have made moves to address the economic impact of the coronavirus pandemic.
"…If the European Union is finally led towards a joint debt issue [even at Commission level] to fund a program that focuses on business rather than loans, this will be a huge step for the EU," Mitsotakis told a Brookings Foreign Policy webinar on Wednesday.
With some member-states raising objections to any plan that would involve jointly issuing debt, the Greek premier warned that the countries that are still skeptical about the plan greatly depend on the single market. A possible collapse would result in a significant cost for them", Mitsotakis stressed.
Meanwhile, main opposition SYRIZA party sources said the European Commission's proposed package has "positive points" but said anyone celebrating the proposal right now is "thoughtless". The same sources said patience is needed in order to see if member-states that oppose the plan would finally agree to endorse it.
The Commission presented its "Next Generation EU" program worth 750 billion euros, which it said would be in addition to targeted reinforcements to the long-term EU budget for 2021-2027 that will bring the total financial firepower of the EU budget to €1.85 trillion.
European Commission President Ursula von der Leyen said: "The recovery plan turns the immense challenge we face into an opportunity, not only by supporting the recovery but also by investing in our future […] This is Europe's moment. Our willingness to act must live up to the challenges we are all facing. With Next Generation EU we are providing an ambitious answer."/ibna