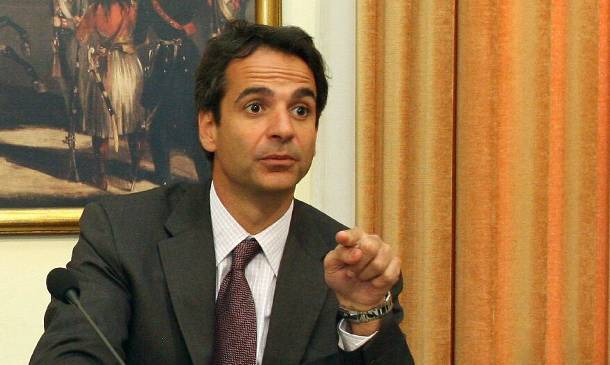 Athens, January 13, 2016/ Independent Balkan News Agency
By Zacharias Petrou
Just two days after his triumph in the New Democracy leadership election race, Kyriacos Mitsotakis began to put his mark on the Greek main opposition party.
The first three appointments Mitsotakis made are Nikos Papathanasis as General Manager of the conservative party, Michalis Bekiris as General Manager of Mitsotakis's political office and Makarios Lazaridis as chief of New Democracy's press office.
In the following days the new leader of Greece's center-right party will choose who he will appoint next in crucial positions within the party and in parliament. The main message Mitsotakis will seek to send is that the party will be united in the new era; this is why he is expected to pick several MPs who did not back him in the leadership race.
Kyriacos Mitsotakis had a small team of very close associates during the leadership election campaign. He ran without the support of the highly influential former Prime Minister Costas Karamanlis and the New Democracy old-guard. However, in the second round he managed to secure the support of both Adonis Georgiadis and Apostolos Tzitzicostas who lost in the first round.
Not many of New Democracy's current MPs openly supported Mitsotakis in the leadership race. Of those who did, Adonis Georgiadis is considered likely to be named party vice-president perhaps along with Apostolos Tzitzicostas, signifying party unity.
Other MPs expected to be handed posts either within the party or in parliament include Miltiadis Varvitsiotis, a former Shipping Minister, Makis Voridis, a former Health Minister and Costas Hatzidakis who is a former Development Minister.
On Tuesday the new leader of New Democracy met with former Prime Ministers Costas Karamanlis and Antonis Samaras. He told reporters that both meetings were held in an exceptional climate and that party unity is certain. On Wednesday Mitsotakis is set to meet with his sister Dora Bakoyannis – a former Foreign Minister – and Central Macedonia prefect Apostolos Tzitzicostas. A meeting with the runner-up in the New Democracy leadership race, Vangelis Meimarakis, is also in the works.
Following his election as party leader, Mitsotakis will seek to attract moderates, pro-Europeans and centrists to New Democracy. Analysts point out that opposition parties such as To Potami and PASOK fear they could lose supporters to Mitsotakis and perhaps even some of their MPs.