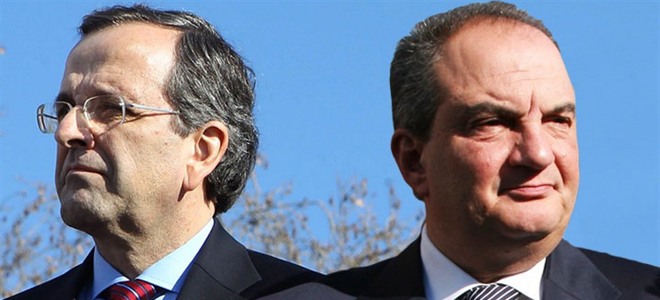 Athens, January 12, 2016/Independent Balkan News Agency
By Spiros Sideris
From the first moments as president of New Democracy, Kyriakos Mitsotakis starts his contacts with the two former prime ministers of the party. Having in mind that time is pressing as significant bills come to the House, he wants to show that his words for the rallying the party will not remain only in words.
The leak on the support of Kostas Karamanlis to Vangelis Meimarakis, in the second round of the intraparty elections, left a scar and the new president wants to close the matter without "bloodshed".
As such, on Tuesday, the new president of New Democracy Kyriakos Mitsotakis will ahve a meeting with Konstantinos Karamanlis at 12.30 noon. On the same day at 13:30 there is a scheduled meeting of the new President of ND with Antonis Samaras.
The two meetings will take place at the offices of the ND in Parliament.
Mitsotakis has included the contacts with the former party presidents in his immediate priorities, as well as the convening of the Parliamentary Group of the party within the week. Given that one of the objectives is for LD to cover lost ground and vigorously pursue its role as the main opposition party, in view of crucial bills, there is an urgent need for the appointment of parliamentarian representatives.
Within the week is expected the first showdown between the new president of ND and the prime minister. A matter of fierce confrontation between the two is expected to be the Social Insurance. Mitsotakis has expressed his disagreement with the increase in employer contributions, something the Maximus considers of major importance, noting that otherwise it would be very difficult to avoid cuts in main pensions.