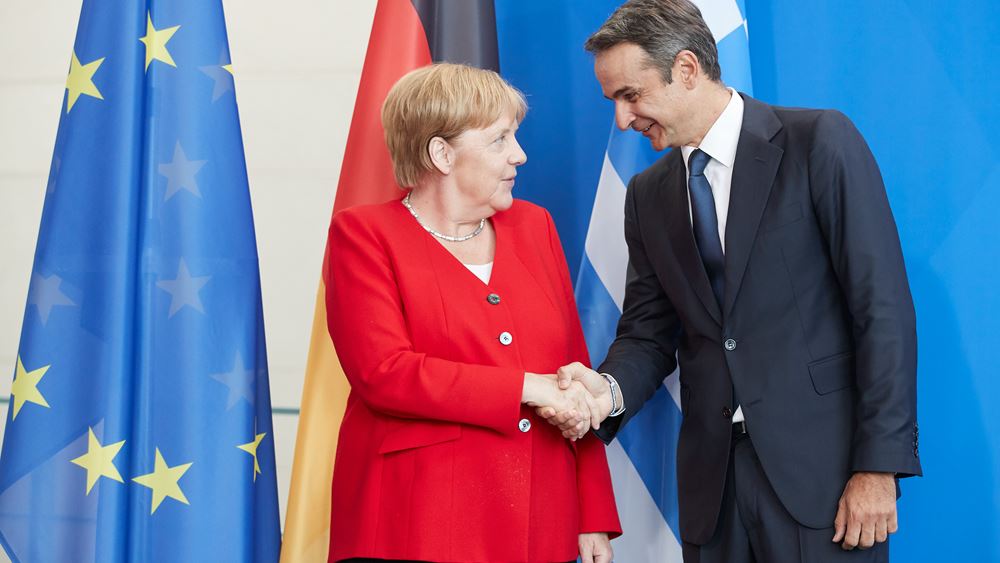 Greek Prime Minister Kyriacos Mitsotakis and German Chancellor Angela Merkel held a joint press conference in Berlin on Thursday.
The German Chancellor said she shares the reform and economic agenda of Prime Minister Mitsotakis. She revealed that the two sides discussed how to assist Greece, including initiatives to boost investment in the country, especially in the energy and environment sectors.
Kyriacos Mitsotakis said he wants to completely change the context of Greek-German relations. On the issue of the Greek primary surplus target, the PM said it is particularly high, but the government first wants to gain credibility and then discuss the surplus. The Greek premier's approach is considered constructive, as Athens bids to put growth ahead of any prospective demands of its Eurozone partners.
"Our main aim is to achieve political credibility", Mitsotakis said, adding that the primary surplus issue will be discussed with creditors "in due time". The so called troika of Greece's international creditors are expected in Athens at the end of September for a post-bailout review of the Greek economy.
Political analysts stress that Mitsotakis' meeting with Merkel was significant as far as economic growth is concerned, with the two leaders agreeing on the implementation of a "green growth" plan for the 2020-2030 period. An investment forum will be organized to promote the initiative.
Asked about whether war reparations were discussed, Mitsotakis said it is a "difficult and sensitive issue" and hopes this difficult chapter can be closed. "Greece hopes in a positive solution to the issue which will boost bilateral relations", he said.
Mitsotakis – Scholz meeting
Earlier, Mitsotakis presented his government's reform agenda to German Finance Minister Olaf Scholz.
The German Finance Ministry confirmed that the Greek government's economic policy is one of the issues that were raised. The Greek premier's agenda includes attracting foreign investments to the country and presenting the government's plan for the economy./ibna