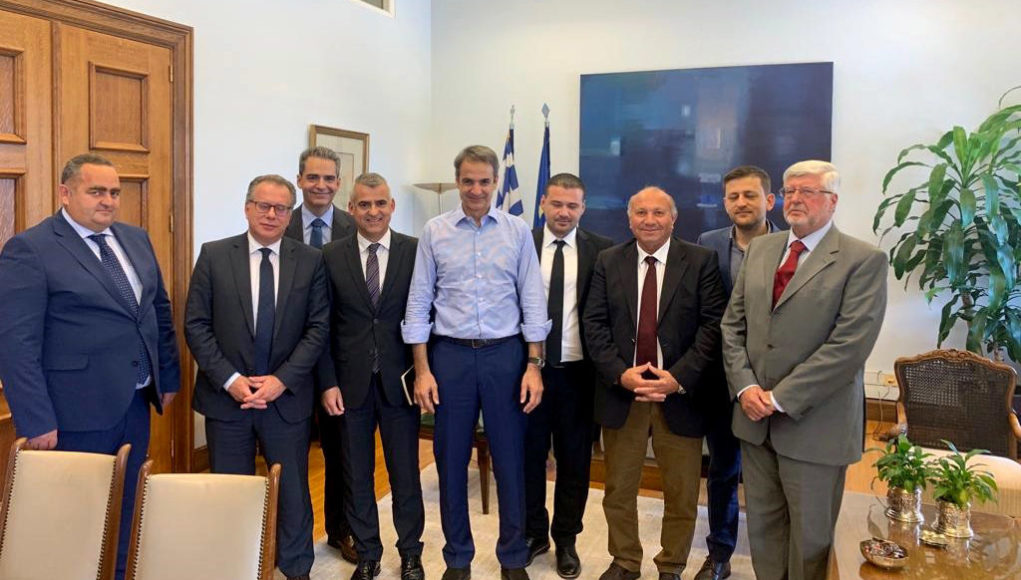 Prime Minister Kyriakos Mitsotakis had a meeting today with a delegation of the Democratic Union of the Greek Minority (DEEM) Omonoia and The Unity for Human Rights Party (KEAD).
The meeting was attended by the President of Omonoia, Mr. V. Kagios, the President of KEAD, Mr. V. Doules, and the President of the Himara Omonoia Branch, Mr. F. Belleris.
According to Maximos Mansion officials, during the meeting the representatives of the Greek National Minority unfolded the major challenges and problems minority members in Albania face.
The Prime Minister assured the representatives of the Greek National Minority that the Greek Government would be firmly by their side, stressing that the progress and prosperity of the minority is an important priority and at the top of the agenda of Greece's relations and dialogue with Albania, while it is also part of a  package of commitments Albania has agreed in the context of its European perspective. He specifically referred to his recent meeting with Albanian Prime Minister Edi Rama, with whom they agreed to take concrete steps forward, starting with the issues the minority faces and with a view to achieving a final settlement on all outstanding issues in their bilateral relations.
Representatives of the minority pointed out the issue of safeguarding the free exercise of the right to self-determination, both in the context of the implementing legislation of the framework law on the protection of minorities in the neighboring country, which should have already been adopted, but also in the context of the census in Albania scheduled for next year. They also emphasized the importance of resolving the property issue, which directly affects the ability of minority members to survive in their ancestral homes.
Other topics that were raised included education and the use of the Greek language, the issue of expatriate pensions, as well as assistance to uninsured expatriates, but also support for new expatriate entrepreneurs who wish to become active in Albania.
The Greeks expressed their gratitude for the support of the Greek Government to the members of the minority and the institutions that represent it, and expressed hope that the Prime Minister would visit the areas where the minority is settled, a visit that the Prime Minister promised to pay. /ibna