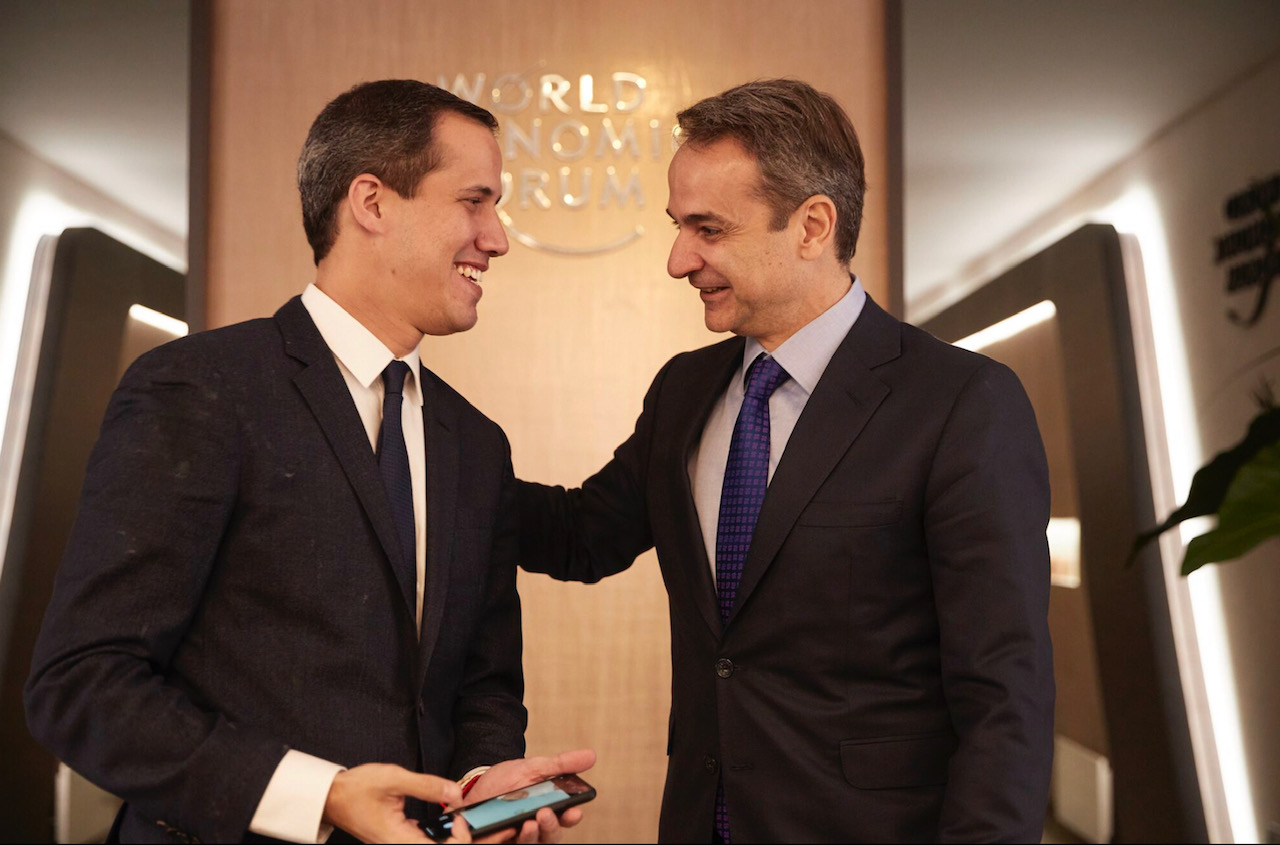 Greek Prime Minister Kyriakos Mitsotakis had meetings today in Davos with the Venezuelan Transitional President Juan Guaidó; the President of the Iraqi Kurdistan Region Nechirvan Barzani; the Governor of the Japan Bank for International Cooperation, Tadashi Ma.
During his meeting with Juan Guaidó, the Greek Prime Minister reaffirmed that Greece supported the process of free presidential elections being held amidst a climate of transparency in Venezuela, stressing that the only viable solution could come from the political path, without the use of force.
Kyriakos Mitsotakis also expressed Greece's concern about the humanitarian crisis in the Latin American country.
The Greek Prime Minister at the start of their talks reminded Juan Guaido that it was the first decision his government had made on foreign policy to recognize the Transitional President of Venezuela.
For his part, Juan Guaidó noted that "we must and we want to stop this crisis. Five million refugees right now. We must stop this tragedy; our people are suffering".
The Greek Prime Minister emphasized that "we are closely following the tragedy in Venezuela; the Greek people fully support yours and we believe that the only way to solve this is for the Venezuelan people to be able to express their will democratically. That is why we have recognized you; we have expressed our opposition to what is happening under the current regime; other countries have done so. It's a shame, it's a tragedy. You can count on our full support, and so can your people. Greece is the country where democracy was born, and we believe that the people must decide for their future. This lies at the core of the values ​​we support".
The Prime Minister then met with the President of the Iraqi Kurdistan Region. During their discussions, the two sides reaffirmed their mutual willingness to deepen economic cooperation. Barzani briefed the Prime Minister on developments in Iraq and discussed regional developments.
Earlier, Kyriakos Mitsotakis had a chance to talk with the Governor of the Japan Bank for International Cooperation. The meeting was picked up where JBIC's delegation to Athens last September had left off, in view of the Greek delegation's visit to Tokyo next week, which will be headed by Deputy Foreign Minister for Economic Diplomacy and Openness Kostas Fragogiannis.
During the meeting with the Prime Minister a wide range of possible collaborations were discussed in areas such as waste management, new technologies and renewable energy. The two sides agreed that they wanted to invest on rebuilding political and economic relations between Greece and Japan. /ibna