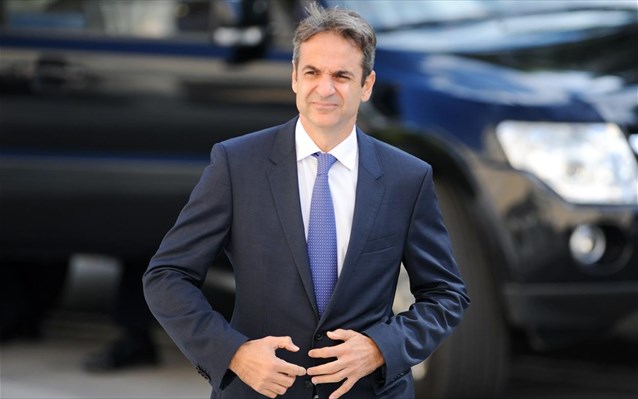 Greece's main opposition party leader, Kyriacos Mitsotakis, met in Brussels on Wednesday with a host of European Commissioners.
Mitsotakis presented his plan for "a future Greece" to European Commission Vice President, Jyrki Katainen and Commissioners Dimitris Avramopoulos (Immigration), Guenther Oettinger (Budget & Human Resources), Phil Hogan (Agriculture), Carlos Moedas (Research, Science and Innovation), Gabriel Mariya (Digital Economy) and Christos Stylianides (Humanitarian Aid & Crisis Management).
All the European Commissioners that joined the working lunch with the Greek main opposition New Democracy (ND) party leader are members of the European People's Party.
Mr. Mitsotakis stated that he briefed the Commissioners about the sweeping reform program Greece is need of, so as to promote investment that will create more and better quality jobs connecting education with the labor market.
The means to make Greece's outdated and largely ineffective civil service more productive and citizen-friendly were also discussed. According to Mitsotakis, his party's plan for reforming Greece ties in with the priorities of the European Commission.
According to New Democracy party sources, such a meeting is quite unprecedented, especially since the European Commissioners greeted the Greek conservative party leader with such warmth. The meeting was scheduled on the initiative of Commissioner Avramopoulos, a former Greek minister of Defense and ND Vice President.
Mitsotakis took the opportunity to outline his plan for a Greek-owned program of liberal reforms that the crisis-hit country needs. Party sources sought to dismiss criticism – largely from the ruling Syriza party – that a New Democracy party would lay off civil servants. Instead, the same sources chose to focus on Mitsotakis's pledge to slash taxes if he comes to power in the next general election.
Ahead of a New Democracy party conference scheduled to take place on December 16 and 17, Mitsotakis appears to be keen on freshening up the front-line of the party's members to signify a liberal approach to governance that will convince voters to elect the party to power.
Earlier this week, the ND leader spoke of the importance of stretching beyond party ranks to find new members in an effort to bridge the gap between the party and society.
Analysts point out that New Democracy will increasingly seek to focus on the future as the government prepares to join taxing talks with the country's creditors over the third review of the Greek program. Presenting credible proposals that promise to reverse unpopular economic policies may be key to New Democracy sustaining its wide lead over ruling Syriza, as indicated by latest opinion polls, analysts mention. This is expected to be a key element of the party's strategy in the immediate future./IBNA