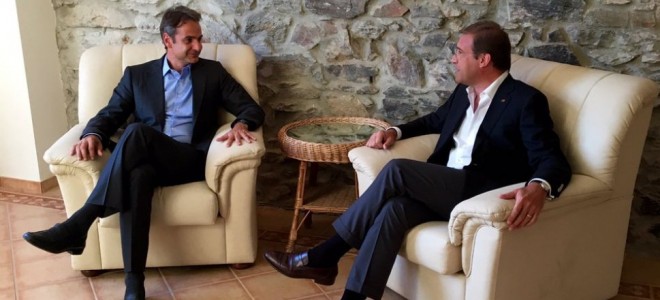 Athens, September 5, 2016/Independent Balkan News Agency
By Spiros Sideris
Attack on the government from Portugal unleashed by Kyriakos Mitsotakis, who met with former prime minister, Pedro Coelho, to discuss the issues both countries are faced with and the major challenges the European Union is facing.
The president of New Democracy noted that Greece and Portugal have many similarities as they are two Mediterranean countries with the same size and both went through the experience of an adjustment program.
Portugal however, managed under the leadership of Pedro Passos Coelho to exit the Memoranda, while unfortunately my country is still in a third extremely painful Memorandum, as a result of problematic handlings of the existing Government, Mitsotakis said.
The leader of the opposition did not fail to emphasize that "only liberal reforms that support the real economy and attract private investment can give development prospects in the country".
At the same time, he argued not that any attempt to cancel such reforms eventually creates problem in viability of the economy.
"This is the question which Greece faces now, under a Left Government. In part this is also the problem Portugal is facing", he said.
The two men also discussed the prospects of the European Union and the answers the European People's Party can give to the major challenges the EU is facing, especially after the difficulties arsing from the Brexit.
«The answer in Europe can not come from the Left. The center-right owes to put forth for Europe's citizens a new vision of development, which European citizens will be able to embrace and believe again", Mitsotakis added.