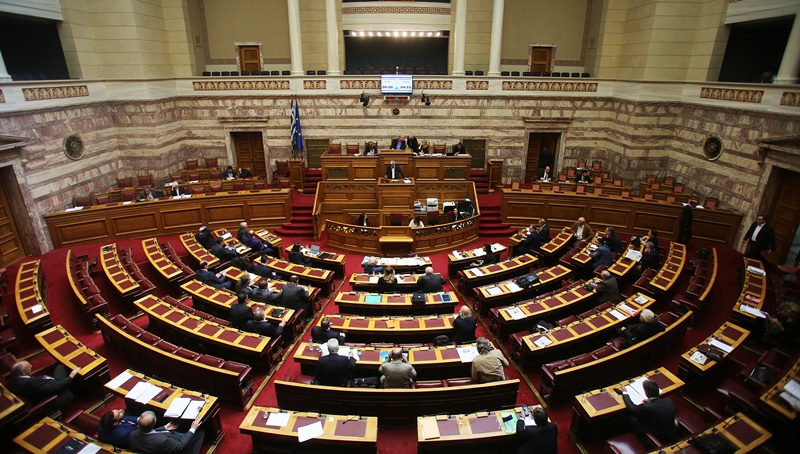 The Novartis case and the "scheming around the involvement of political figures from the previous government" as Antonis Samaras and Evangelos Venizelos claim, have become a political-judicial thriller with many episodes and various stars.
Although the case is being handled by the two former leaders and Andreas Loverdos, through their depositions at the Supreme Court, SYRIZA is trying to give it a purely political dimension, by addressing Prime Minister Kyriakos Mitsotakis.
"We move on but we do not forget" was New Democracy's response to SYRIZA's complaints of a "cover-up and revanchism on behalf of the political elite, who is responsible for the Novartis scandal". Speaking about institutional divisions, SYRIZA attempts to push the government towards an intra-party commotion, and addresses the Prime Minister: "Once again, we urge Mr. Mitsotakis not to hide behind the Samarra-Venizelos lawsuits, and to establish, if he dears, an inquiry committee or whatever else works for him, so that all Greek people can know what the scandal and what the plot is exactly".
New Democracy responded using the prime minister's motto from TIF: "We move forward but we do not forget", the brief statement was, adding: "One seeks revenge when they have been defeated; and that is SYRIZA. We only ask for the truth. Neither they nor their partisans should offend it. As for those who polluted public life with Rasputin phenomena, they better not test the Greeks to go back in time and remember what has happened in the past. We have said it before, 'We move on, but we do not forget'.
It is actually rather significant that even this answer was issued by the Piraeus headquarters and not by Maximos Mansion executives. When it comes to establishing an inquiry committee, Kyriakos Mitsotakis seems reluctant, though he has not yet ruled out the possibility. "I'm not going to turn Parliament into an inquiry committee factory", he said while in Thessaloniki. Antonis Samaras proceeds on the opposite direction, as he keeps on bringing up the issue across the media. The former prime minister referred to Dimitris Papagelopoulos as Rasputin and Alexis Tsipras as trying to manipulate Justice, so that he can initiate civil liability investigations regarding the Novartis scandal. The case, however, is based on Anti-Prosecutor Giannis Aggelis' statement that "Rasputin was the god of the corruption prosecutor's office" and that he was manipulating Eleni Touloupakis – who responded through a statement that Mr Aggelis' claims were absolutely "false".
It is clear that Antonis Samaras and Evangelos Venizelos want to blow up the political climate, obsessed with getting revenge after what went down in January 2015. Yet this causes friction between Antonis Samaras in particular and Maximos Mansion executives, who have no reason to seek a warlike climate, since complex economic issues await to be promoted ahead of them. Kyriakos Mitsotakis, however, is currently leaving all the possibilities open, arguing that he cannot pre-empt the judicial developments. In the event that a file is forwarded to Parliament for further investigation, then it becomes the Parliament's responsibility, the people close to him state. Possibly an inquiry committee or Pre-Litigation Committee, depending on the findings of the judicial inquiry, could promote a political misconception in regards to the economy. The election of the President of Greece remains on the horizon, alongside whether an agreement with Alexis Tsipras will lead to a mutually accepted candidacy. This would cool the political scene, though it would raise the intra-party tensions regarding Antonis Samaras and his partisans./ibna