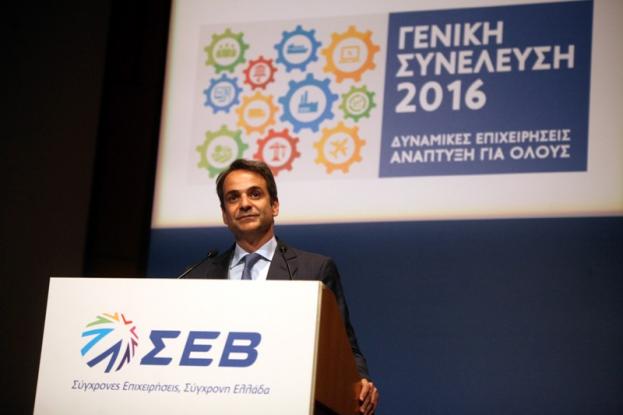 Athens, June 22, 2016/Independent Balkan News Agency
By Spiros Sideris
Greek entrepreneurship that will give growth impetus to the country with investments, but at the same time with a social sign, is what the country needs, noted the president of the New Democracy, Kyriakos Mitsotakis, at the general meeting of the Federation of Hellenic Enterprises (SEV).
He stressed that the development will only come from companies that are willing to invest, assuming the business risk profit requires, while the obligation of politicians is to create a safe environment conducive to investment, with low taxes and no bureaucracy.
He emphasized that the SYRIZA-ANEL government can not achieve this objective, since "he likes to talk about a return to growth, with termsand statist approaches of the last century", without bothering for healthy entrepreneurship and the private sector.
Excessive taxes, continued the leader of the opposition, bring recession, reduced consumption and increased tax evasion.
As an example he mentioned the VAT increase, arguing that in the first 10 days of June, the consumption of gasoline fell by 17% and that of oil by 8%.
He added that what he expects businesses to invest in their place, but at the same time to demonstrate and increased social responsibility. "Charity is not just a contractual obligation in the context of business respectability."
The absolute priority of a New Democracy government will be new jobs, he added.