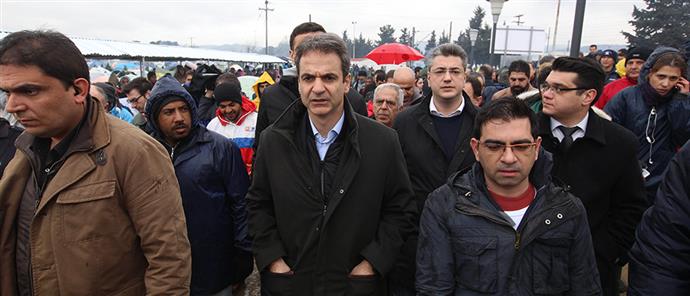 Athens, March 16, 2016/Independent Balkan News Agency
By Spiros Sideris
Punch in the stomach of civilized Europe called the camp of refugees in Idomeni the New Democracy leader, who visited the camp yesterday and appealed to the government, even at the eleventh hour, to prepare an organized evacuation plan for the refugees in the area, because, he said, the change of weather conditions can potential create a sanitary time bomb.
Kyriakos Mitsotakis walked in the rain and the mud in the camp, at times he took pictures of the refugees with his phone, he was briefed on the situation by the representative of the UN High Commissioner for Refugees, Doctors Without Borders, Doctors World, police and doctor KEELPNO.
Immediately after completion of the visit the head of the main opposition party said:
"The situation we saw today in Idomeni is a punch in the stomach for our country, for all of civilized Europe and for our culture as a whole. The conditions here are absolutely inhumane.
Twelve thousand people in unprecedented conditions in the mud, with a few volunteers who offer their help with all their strength, but obviously the size of the problem exceeds them.
We make today here a last appeal to the government to immediately draw up an organized transport plan of these people in decent conditions. This situation can not go on any longer. You understand what will happen if the weather improves a little.
Will are faced with a potential sanitary time bomb.
Idomeni must be evacuated and these people must be transferred to other structures so that their health won't be in danger. Please note that half the population of Idomeni are small children who get sick with great frequency.
What is important is for the government to finally confront this major humanitarian crisis. Unfortunately the government and the state is absent from this situation. This is what the Prefect claims, what the non-governmental organizations claim, what the volunteers claim, but state is absent. I met only one government official, a doctor of KEELPNO and nothing more".
Gerovasili: Mitsotakis stands both on the boat and the far-right populism and sensitivity
The government accused the leader of the main opposition that he "can not simultaneously stand on the boat of right-wing populism and the boat sensitivity".
"Mr. Mitsotakis decided today to demonstrate sensitivity to Idomeni" initially stressed, in a statement, government spokeswoman Olga Gerovasili, to add:
"Otherwise, the party he leads accuses, for months, the government for not turned back refugees at sea, opposes reception and accommodation centers, indulges in every kind of far right exploitation of the refugee crisis, and remains silent at unilateral actions against our country",
"We ought to point out to Mr. Mitsotakis that he can not be simultaneously step on the boat of right-wing populism and the boat of sensitivity", the government spokeswoman concluded.