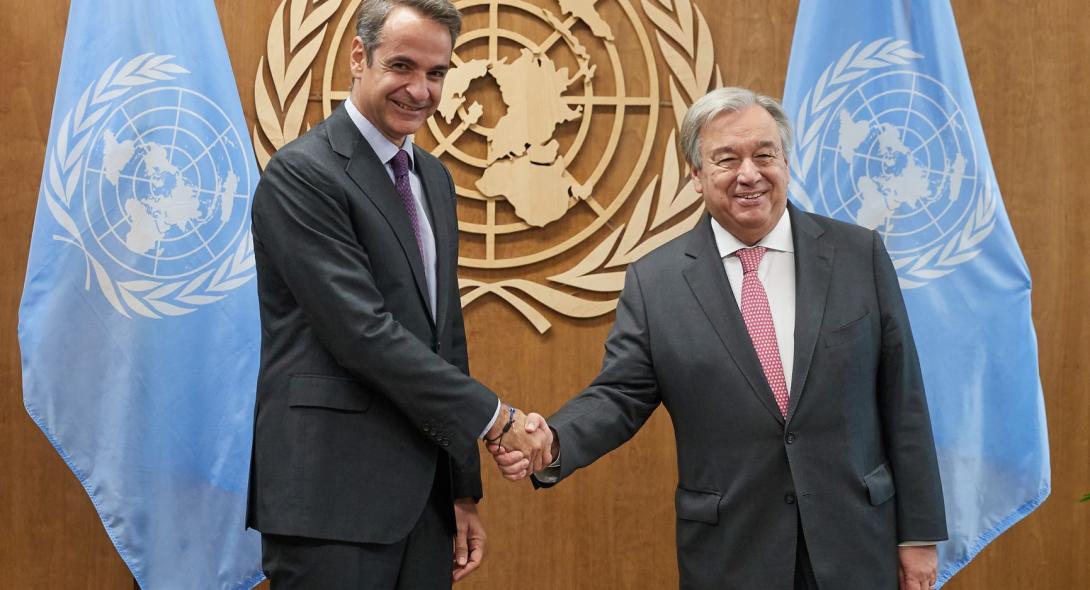 The Cyprus issue and climate change were at the heart of Prime Minister Kyriakos Mitsotakis' meeting with UN Secretary General Antonio Guterres at the annual meeting in New York.
In his statement he said: "We had a very meaningful and fruitful discussion me and UN Secretary General Guterres; we mainly discussed two issues: the first concerns the Cyprus issue. I thanked the Secretary-General for his rather substantial contribution and his continuous effort to resolve this issue, while I once again expressed Greece's full support towards the just demands of the Greek-Cypriot community to finally find a fair and lasting solution to this long-standing Greek problem, that has been torturing the Greek community for 45 years".
He went on to say that they also discussed the green agenda in order to tackle climate change, which the Secretary-General set as a priority of his. "I reiterated Greece's unequivocal support towards the UN initiative to achieve the goals of sustainable development, while I also presented our country's plan on how Greece will manage to be at the forefront of the European battle against climate change", the prime minister commented, while adding " the environment and its protection are not simply an obligation to future generations, but also an opportunity to showcase the country's greatest comparative advantage. That is why by the end of the year the government will present its updated strategy for achieving the objectives set at the Paris conference, which will comprise a bold, ambitious plan at the forefront of the European initiative to address this critical issue".
Following his meeting with Mr. Guterres, the Prime Minister had a talk with the President of Cyprus, Nicos Anastasiades, one day after his meeting with the President of Turkey Recep Tayyip Erdogan. It is noted that he mentioned to Mr. Erdogan the issue of Turkey's offensive behavior within the Cypriot EEZ as well as the Turkish ministers' visits and statements in the occupied territories, which impede progress of negotiations between the two communities. The conclusions of the meetings with the two leaders as well as the planning over the next steps were also discussed during their meeting. /ibna