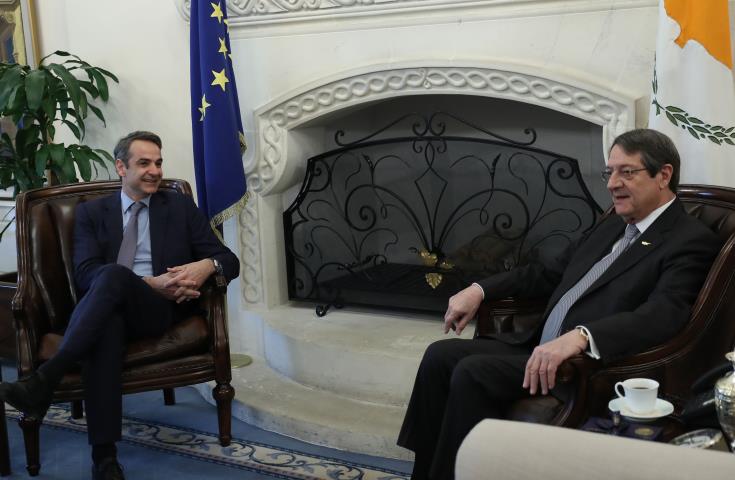 Mitsotakis met with the President of the Republic of Cyprus, Nicos Anastasiades, and sent his own messages concerning the economy
By Michalis Michael
Today, the President of New Democracy, Kyriakos Mitsotakis, expressed his support for the President of the Republic of Cyprus' initiatives, Nicos Anastasiades, on the Cyprus issue, but also moderate optimism concerning substantial progress.
The President of New Democracy is in Cyprus for a two-day visit, during which he had the opportunity to meet with DISY President, Averof Neophytou, to participate in a conference on the economy but also to meet with students from Greece studying in Cyprus. In his statements, he said, on the one hand, that Greece must follow the Cypriot example concerning the economy and on the other hand, stressed the fact that during the Syriza era, the universities have become dens which are giving asylum to criminal organizations.
This morning, the President of New Democracy had a meeting, as aforementioned, with the President of the Republic of Cyprus, during which, inter alia, the Cyprus issue, the UN Secretary-General's report, a draft of which was published, as well as the upcoming European elections were discussed.
"I have complete confidence in Anastasiades' handling of the Cyprus issue"
In his statements, after the meeting with Nicos Anastasiades, the ND President referred to the aforementioned issues by stating specifically the Cypriot issue and stressing that he reiterated once again his complete confidence and support for President Anastasiades' initiatives but also his optimism that substantial progress can be made on the basis of the non-negotiable positions of the Republic of Cyprus.
As far as the upcoming European elections are concerned, he stressed that "I am absolutely certain that in this electoral contest, citizens in both Greece and Cyprus will recognize that our parties should play a leading role on the next day in Europe. We are both members of the great political family of the EPP. The stronger our parties are the next day, the stronger will be the voice of both Greece and Cyprus in an EU that's changing".
The damage
The President of New Democracy party did not fail to refer to both the financial situation of Cyprus and Greece, the development issues and the differences that his party has in relation to the government as to which path Greece should follow the next day, saying that there is obviously a different perception.
Cyprus, as he said, has achieved very important economic consolidation steps under the leadership of President Anastasiades "and this is something unquestionable".
"Unfortunately, he added, Greece suffered great damage over these four years, and our own duty is to put the economy in a new path of growth, to achieve rapid growth rates equivalent to those achieved by Cyprus in recent years" and also Greece should promote private investment, entrepreneurship and give its support for quality work.
Mitsotakis added that good investments create well-paid jobs. "It is the only way that the hundreds of thousands, mostly young people who have left – many seeking professional shelter in Cyprus as well – to return to Greece in order to feed the country's great effort with human capital", he concluded./ibna