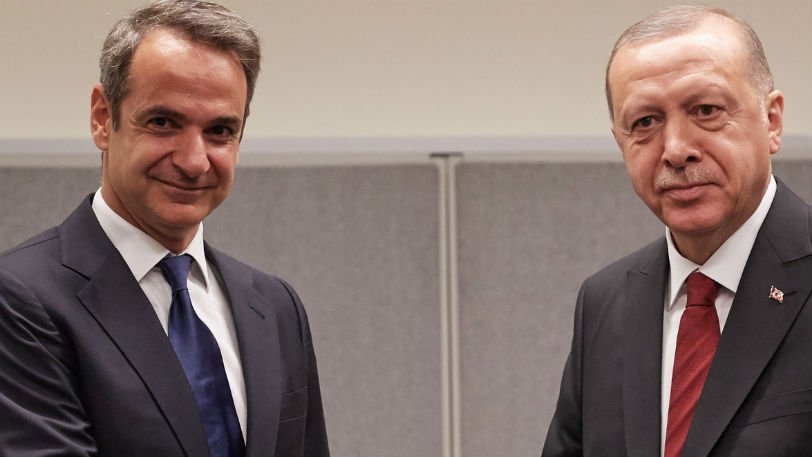 Prime Minister Kyriakos Mitsotakis' first meeting with Turkish President Tayyip Erdogan took place this morning (New York time) amid a good climate, as sources from both sides report.
This comprised a reconnaissance meeting and "contained a lot of personal remarks", as government sources stated, though in the roughly 50 minutes it lasted (with interpretation cutting in half the meeting's useful time) critical issues were raised, ranging from the refugee-migrant affair to the Cyprus issue; bilateral issues were also tackled, with the strengthening of the Greek-Turkish economic and trade relations being underlined.
"It was nice to meet you from my new position" the prime minister told Tayyip Erdogan during their first handshake in front of the cameras.
During the meeting it was decided that the activation of the Greek-Turkish High Council of Cooperation would soon be realized, while Foreign Ministers Nikos Dendias and Mevlut Cavusoglu were given the task to proceed with the necessary preparations.
The Cyprus issue was also brought up during the meeting, with the Greek side, as the same sources report, "expressing its support towards Cyprus as well as towards President Nicos Anastasiades' proposal to secure a fair share for both communities on the island, by exploiting Cyprus' natural resources".
When it came to the refugee / migratory flows, it was agreed to make every effort to restrict flows to both the Turkish coast and the sea.
The Greek Prime Minister raised the issue of the reopening of the Halki Theological School, a topic the Turkish side regards favorably. The Turkish side raised the usual issues that concern them about the Muslim minority in Western Thrace, while mentioning the two monuments of Ottoman cultural legacy (Athens – Thessaloniki).
The metting was concluded with the the two governments agreeing to work closely in order to create a better climate for the benefit of both peoples, and so that stability can be achieved in the region.
Greek Foreign Minister Nikos Dendias, Deputy Foreign Minister Kostas Fragogiannis, Deputy Prime Minister and Government Spokesman Stelios Petsas, Diplomatic Adviser for the Prime Minister Alexandra Papadopoulou, chief of Office for European Union affairs Dimitris Mitropoulos and Greece's permanent representative in the UN Maria Theofili were also present at the meeting.
From the Turkish side, Tayyip Erdogan was accompanied by Foreign Minister Mevlut Cavusoglu, Minister of Defense Hulusi Akar and Minister of Economy -who is also the President's son in law- Berat Albayrak. /ibna