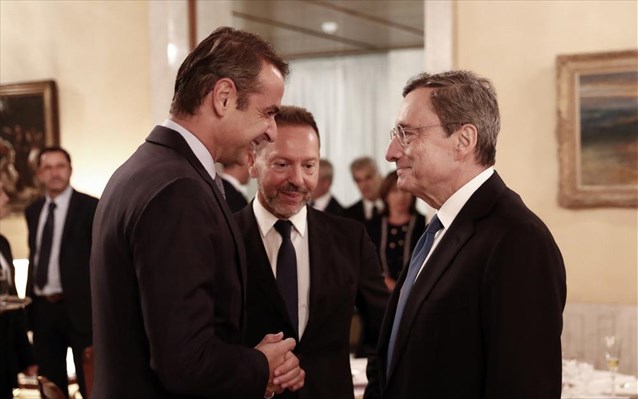 Prime Minister Kyriacos Mitsotakis will meet with outgoing European Central Bank president Mario Draghi in Athens today. According to information, the issue of Greece's possible inclusion in an expected fresh round of quantitative easing (QE) is set to be discussed.
Local reports suggest that even though Athens is far below investment grade, the requirement for QE eligibility could be overlooked in Greece's case on the evidence of the country's economic recovery and post-bailout surveillance. It is believed that early inclusion in the bond-buying scheme could be made possible if the government continues to implement a program of bold reforms and meets agreed fiscal targets.
Speaking at the Athens Academy on Monday, Draghi – who will soon be succeeded at the helm of the ECB by IMF managing director Christine Lagarde – stressed the need for Greece to achieve convergence with developed Eurozone economies, with the help of appropriate policies at a national and European level.
He went on to urge his successor to continue the policies adopted under his tenure to support the Eurozone and boost growth, including negative interest rates and QE.
Draghi praised the effort of countries such as Greece, whose governments implemented significant institutional and structural reforms in recent years, as well as the collective effort to complete the Eurozone project via the establishment of a banking union and the European Stability Mechanism.
Draghi stressed that the resilience of the Eurozone after a protracted economic crisis proved critics wrong. Many countries, especially Greece, had exerted significant efforts to prosper as part of the monetary union, he said, and he noted that the euro is held in high esteem as a currency.
Mario Draghi was honored by the Academy of Athens on Monday evening, for his role in rescuing the European economic union and common currency and for his actions in dealing with the debt crisis in the Eurozone./ibna