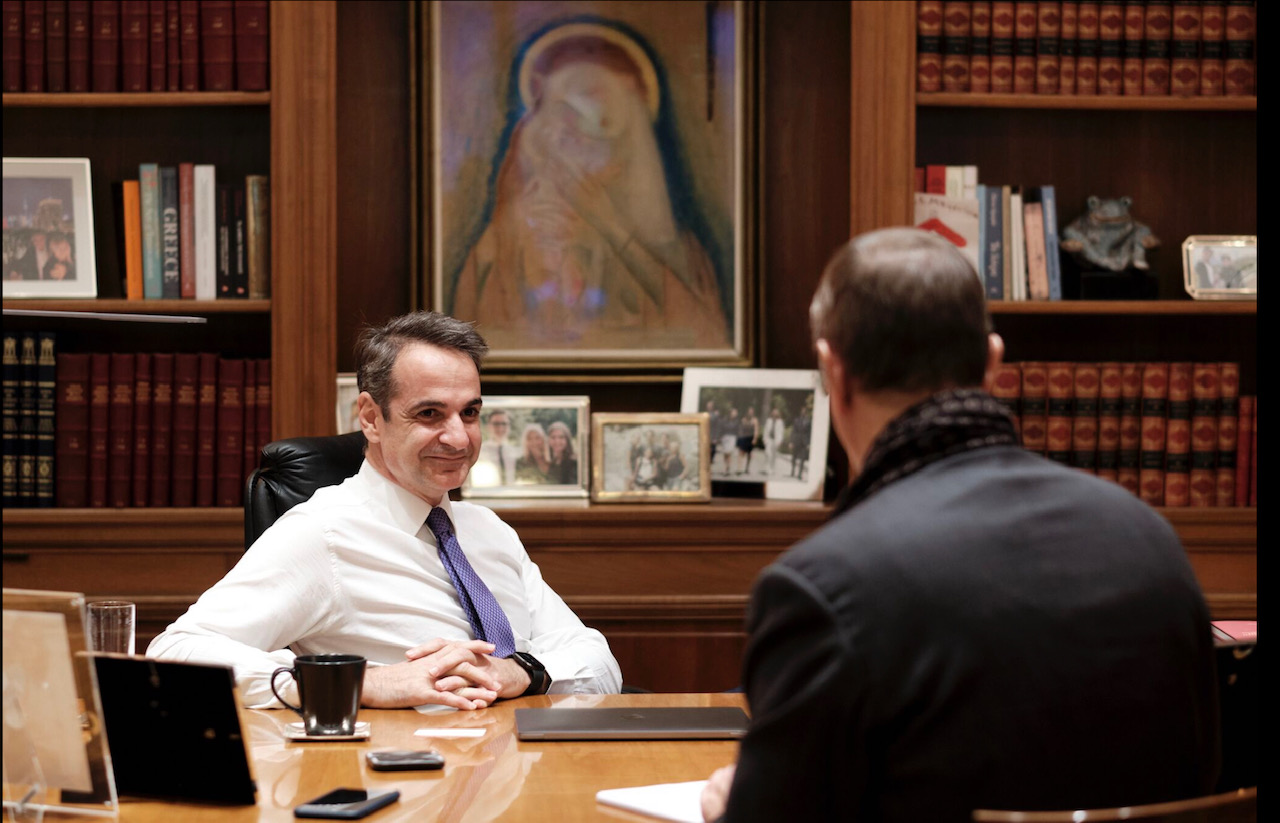 Prime Minister Kyriakos Mitsotakis spoke about the prospects for Greece and the new era of growth for the Greek economy, in the Canadian newspaper "The Globe and Mail". "Development must have two main characteristics", he says: "It must be for everyone and it must be sustainable. It must be development that does not aggravate income inequalities in the way we have seen it happen in Western liberal democracies".
"His vision for Greece is nothing short of revolutionary," says the Canadian daily for Kyriakos Mitsotakis: "He wants to create a competitive economy that will act as a magnet for foreign investment and not just depend on the sun and the sea".
Journalist Eric Reguly, who met the Prime Minister at Maximus Mansion, notes that he has taken on the "Heraclitus duty" to renew the country after 10 years of crisis, through tax cuts, state digitization, development of green technologies, the acceleration of privatizations and the significant reduction of non-performing loans so that banks can finance the economy. "We fully recognize that growth must come from the private sector", the prime minister said.
Invited to comment on Turkey's stance, especially on the issue of Libya, Kyriakos Mitsotakis stresses: "We will not allow any Turkish activity that violates Greece's sovereign rights". Referring to the Greek-Turkish relations in general, he notes: "We are ready to talk to all our neighbors, including Turkey, of course. And if no agreement can be reached, then we are open (to recourse) to international jurisdiction. But the red lines cannot be violated by anyone".
Invitation from Trudeau
In the interview, Kyriakos Mitsotakis reveals that during a meeting with Justin Trudeau in London, he was invited by the Canadian Prime Minister to visit Canada, something he plans to do by 2021.The newspaper commented that the two leaders from the beginning developed "a strong bond".
Important Canadian investments in Greece include Eldorado Gold in Halkidiki. "Since last summer we have issued a series of licenses that were unjustifiably delayed by the previous government. We are currently renegotiating the contract, which will include the terms for the remaining investments, in order to preserve jobs, minimize environmental costs and provide social responsibility commitments to the local community. I am optimistic that we will reach an agreement very soon", the prime minister said.
Kyriakos Mitsotakis also stresses that he has been elected with an agenda of change that will improve the lives of Greeks and adds that citizens are welcoming this prospect, as they have changed their attitude towards the interests of the few who work at the expense of the many, but also against the phenomena of violence. "I was elected to make changes and that is exactly what I intend to do", the Prime Minister concluded./ibna