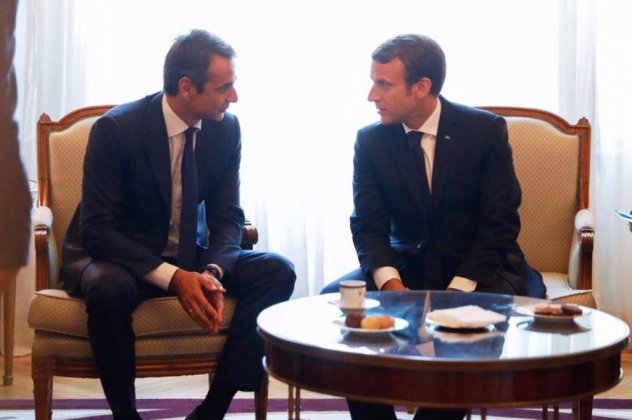 Prime Minister Kyriakos Mitsotakis will break into a series of contacts with foreign leaders filled with important messages, goals and initiatives, starting from Paris on Thursday, August 22, as he will visit Berlin on August 29 and will travel to The Hague on September 2-3.
The Greek Prime Minister will be in Paris, where he will meet with French President Emmanuel Macron on Thursday afternoon at 16:00. According to the official program, the two leaders will make joint statements, followed by expanded talks between the two delegations, while a private Mitsotakis-Macron meeting will take place at 4:45 pm.
Kyriakos Mitsotakis, through his contacts with foreign leaders, looks to point up Greece, which has finally turned a page after a decade-long crisis and has a strong, reform-minded government with a fresh popular mandate.
In the new environment that is being created in South Europe and in the South-Eastern Mediterranean, Greece is considered an anchor of stability, growth, moderation and pragmatism at a time of significant challenges for democratic Europe and our neighborhood.
The Greek Prime Minister also seeks to actively promote the alliances on the new strong foundation created after July 7, so that favorable prospects and a climate of optimism for the country's future can deliver tangible results for Greek citizens: stronger growth with lower taxes and decent jobs in a country that is moving towards an environment of security and stability.
From Paris, the Greek Prime Minister will urge French investors to benefit from the prospects that are opening up in Greece after the July 7th elections and are already evident on the decline in Greek bond yields, the record-breaking rate for the new 7-year term, the positive performance of the Greek stock market and the significant improvement of the economic climate index. It is noted that the interest of French investors is high and covers a range of sectors such as energy, networks, construction and tourism.
Kyriakos Mitsotakis will present to the French President the parameters of a deal meant to boost growth in Greece through a reduction in primary surpluses from 2021 -in order to free up additional fiscal space for tax cuts and reductions- and also meant to support the weakest. The Greek government's demand for surplus reduction will therefore be based on the new reality (confidence building, dramatically lower interest rates and bond yields) and on the common interest of Greece and its partners in high growth, a fact that improves debt sustainability in a decisive way.
Security and stability will also be a hot topic in the Mitsotakis-Macron talks, as Greece, being Europe's external border, should have a say in Europe's immigration and border guard policy. Greece is also the only country in the region that is a member of NATO, a member of the euro and a pillar of stability in a difficult region. During the contacts that will be made in Paris, security and defense cooperation issues between Greece and France will also be thoroughly discussed.
Finally, Emmanuel Macron's "green" agenda will also be included in the talks, since addressing the impacts of climate change is a key point of convergence between the two governments. Also, many elements of Macron's European agenda are in agreement with the Greek Prime Minister, such as the common budget and the strengthening of defense cooperation.
Greece and France, according to Greek government sources, may pursue environmental and energy synergies ranging from renewable energy, recycling and waste management to rational use of natural resources, innovation and electrification in cities.
Since Greece is a country of unique natural wealth and faces major environmental challenges just like France, Kyriakos Mitsotakis is expected to support French President Emmanuel Macron's "green" agenda, while proposing for them to be at the forefront of this effort in the European Council, so that the European Civil Protection Mechanism (RescEU) will be given the permanent and stable structures needed in order to assist emergencies in every European country. /ibna