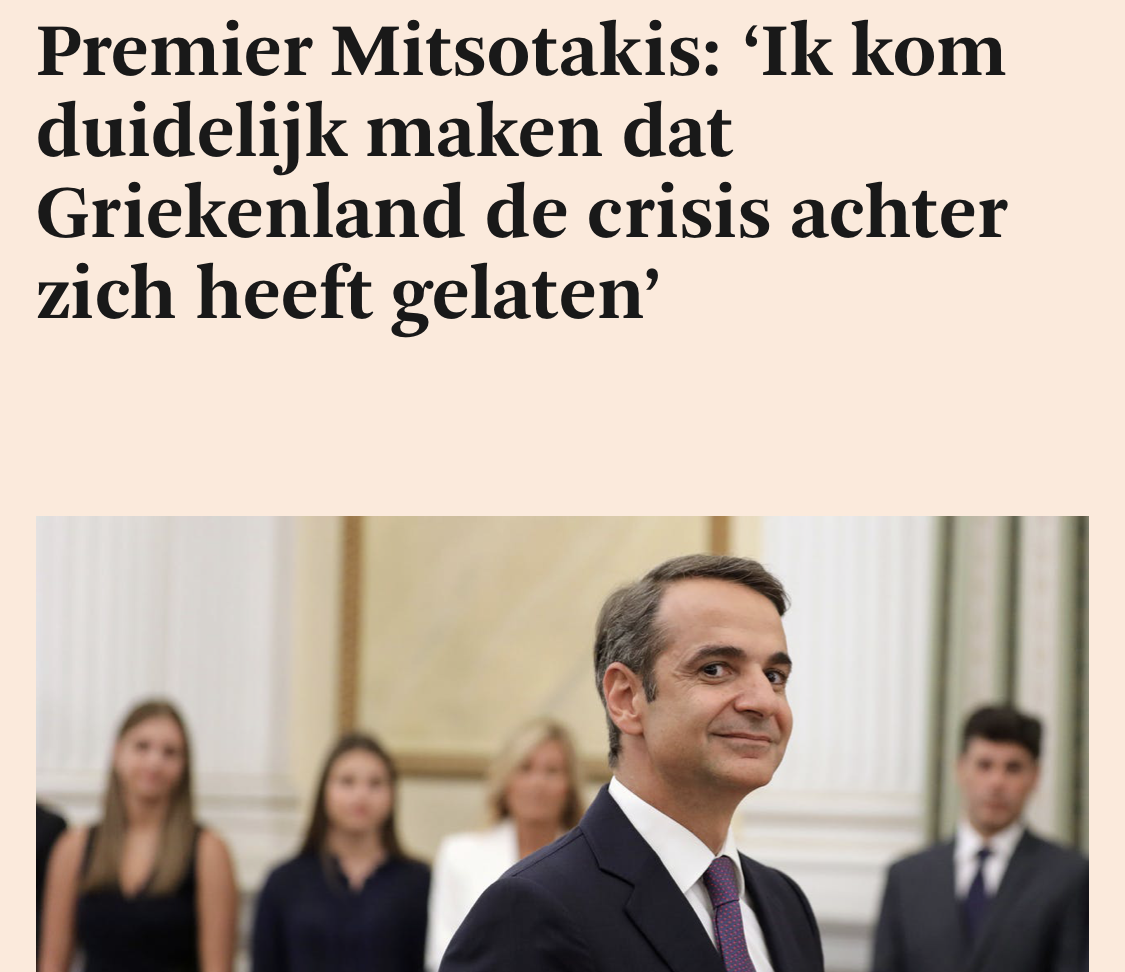 Greek Prime Minister Kyriakos Mitsotakis calls on Dutch investors to trust Greece in an interview with the Het Financieele Dagblad newspaper and points out that the new Greek government guarantees stability and favors reforms, especially in terms of lifting obstacles for the implementation of investments.
Although the interview is part of his visit to the Netherlands and his meeting with his Dutch counterpart, Mark Rutte, today at noon, the prime minister refers to domestic political controversy and addresses Alexis Tsipras: "My goal is civilized political dialogue; and I think Mr Tsipras also understands that things can be different. If he wants to move SYRIZA to the center it is also in his own interest to ensure a civilized dialogue".
Speaking during his visit to the Netherlands and his meeting with Prime Minister Mark Rutte, Mitsotakis emphasized that the country's partners and international markets now recognize that Greece has turned a page and stresses: "I come to make it clear that Greece has definitely left the crisis behind".
Asked by a journalist about the recent increase in refugee/migration flows and whether he will discuss the matter with his Dutch counterpart, Mitsotakis replies that "tackling this issue requires a European strategy. It is not reasonable for such a question to concern only certain countries". He then sends a message to the countries that are not involved in the common European effort: "Whoever wants the benefits of the open borders of the Schengen Treaty should be ready to bear the consequences as well".
The prime minister refers to the situation in the country, saying that "Greek society is now much more mature than many believe. We have had a very difficult time, and at a time when populism is on the rise in Europe, in Greece it's the opposite".
Called upon to comment on the historically low interest rate on government bonds and the fact that Greece can borrow without a problem, Mitsotakis notes: "It is a very important development. One can also see it in the confidence indicators that have also improved significantly".
Asked whether he will immediately call for a reduction in primary surpluses below 3.5%, the prime minister replies that this will be done after the confidence of the country's European partners is restored and the target for 2019 and 2020 is met. At the same time, Mitsotakis emphasizes that the SYRIZA government's agreement on such high surpluses "is a remnant of the past, a measure taken at a time when there was a government in Greece that was unwilling to implement reforms".
He refers to the client state and the reform of the State, saying that "it is necessary to minimize face-to-face transactions" in order to increase transparency and at the same time create conditions that will support the careers of many worthy civil servants".
Asked, finally, if he is concerned about the risk of recession in Europe, the Prime Minister notes that there are certainly concerns, and adds that the answer must be given at a European level and that this will be the role of the new European Commission./ibna