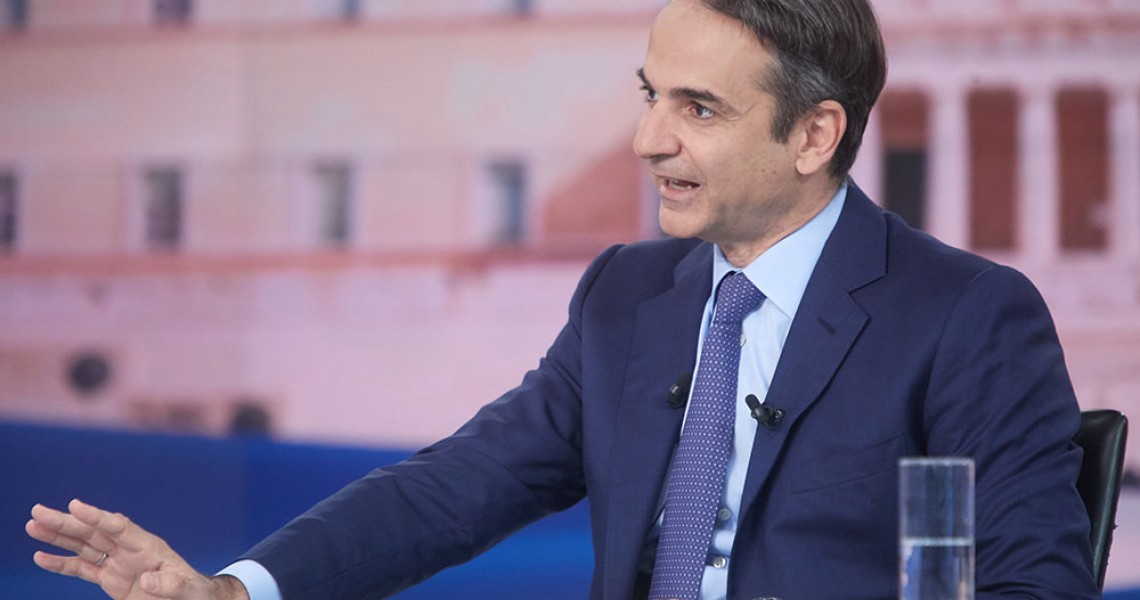 Main opposition party leader Kyriacos Mitsotakis outlined his vision for the country and some of the policies that a New Democracy government would apply if it wins the next election.
In an interview with SKAI television, Mitsotakis was fiercely critical of the ruling SYRIZA-ANEL coalition and the Prime Minister, while reiterating his call for an early election.
Focusing on the issues of foreign policy and the handling of the economy, the conservative party leader said PM Alexis Tsipras had no reasons to celebrate.
Specifically, Mitsotakis made clear his party "will not ratify the agreement with the Former Yugoslav Republic of Macedonia (FYROM), whenever it comes to parliament," arguing that the accord concedes the Macedonian nationality and language to Skopje, "something no other government before him has done."
Mitsotakis attacked the premier personally for committing the country to such an agreement without having the political legitimacy to do so, considering the objections raised to the deal by junior coalition partner ANEL. He said this constituted an "oddity" in constitutional terms.
Turning to the economic front, Mitsotakis pointed out the failings of the government in its debt relief negotiations with creditors, arguing that the recent Eurogroup decision has shortcomings.
Specifically, according to the center-right politician, the debt relief agreement will not suffice to secure long-term, sustainable growth, leaving Greece "in a much worse condition that it was in 2012." Mitsotakis also wondered if the government traded off the FYROM name-change agreement for debt relief measures, which he said will become evident in due course.
"The debt relief is welcome, but alone it is not enough to lead the country out of the dead end it finds itself in, with Mr. Tsipras being responsible".
Presenting his own proposals, Mitsotakis said a New Democracy government would emphasize on privatizations, a bold reform of tax policy leading to tax cuts and curbing public sector expenditure.  "The issue is how to soften the fallout from the high primary surpluses" he argued, adding that "the country needs a bold development policy with investments and jobs".
According to analysts, New Democracy's opposition tactics in coming weeks will focus on the two areas identified to be the government's weak spots; namely, the FYROM name-change agreement and the commitments it has made to creditors which could heap fresh austerity on Greeks./IBNA