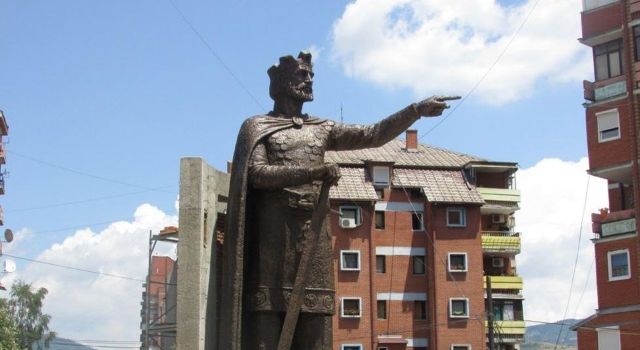 Pristina, 28 June 2016/Independent Balkan News Agency
By Elton Tota
Representatives of the Serb community in Kosovo, with the support of the Serb government are marking the anniversary of what is considered to be the battle of Kosovo of 1389.
What's special about this year's anniversary relates to the fact that the monument of Tsar Lazarus in the central square of Northern Mitrovica will be unfolded.
The decision for the installment of this monument was taken by the municipality council in an extraordinary meeting held on 17 June with the presence of the Serb councilors alone.
For this, local authorities in Mitrovica have not been consulted with central government in Pristina. This has sparked the reaction of the government and opposition parties in Pristina.
Faton Abdullahu, political councilor of Prime Minister Isa Mustafa says that Kosovo's government is in favor of respecting the culture and heritage of all communities in Kosovo, but based on the laws, Constitution and the principles on which Kosovo has been built.
"As a government, we do not support a mentality which has proven to be a failed one to lead the present and the future of the citizens of Kosovo and in general, the democratic and multiethnic values which we are building".
"We want to build new plants, open new jobs and build a Kosovo which offers new opportunities without discrimination", he said.
Leader of Self Determination, Visar Ymeri says that the monument of Tsar Lazarus erected in Mitrovica shows Serbia's chauvinist character.
"Serbia's colonialist actions have always been accompanied by chauvinist rhetoric which instigates hate on others. Tsar Lazarus monument shows the chauvinist character of Zajdenica as a project", he said.
Ali Berisha, AAK lawmaker, considers the erection of Tsar Lazarus monument in the north of Mitrovica as a cause for concern.
"Time has come for PM Isa Mustafa and President Hashim Thaci to think. The state must act as soon as possible. Serb provocations must be put to an end", he said.
Jakup Krasniqi of the Incentive for Kosovo says that the arrival of Tsar Lazarus monument in a free, independent, sovereign and independent Kosovo is an act of PM Isa Mustafa and Hashim Thaci.
Krasniqi says that the government's silence has been agreed in Brussels.
"This is another proof that these people which have allowed such things against the Constitution and the law, must resign", he said. /balkaneu.com/