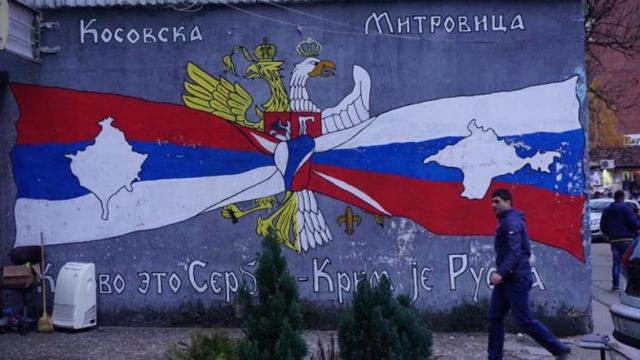 Pristina, 27 June 2016/ Independent Balkan News Agency
By Elton Tota
Serb parallel structures continue to function in the north of Kosovo. If someone visits the north of Mitrovica, he will see that the all the respective local institutions in the city have been divided.
Albanian residents say that the Serb language dominates in this part of the city and that their rights have been violated, especially the freedom of movement.
Intellectual from Mitrovica, Bujar Voca says that Serbia is colonizing the north, while the government of Kosovo has no plans in place to prevent this scenario.
"It has been several years that Serbia has placed barricades in the north, in order to divide Kosovo, isolate Albanians there and making it impossible for Albanians who have been banned from the north of Kosovo to return", he says.
Voca says that Serbia's plan is to divide Kosovo through Iber river.
"The displacement of Albanians is happening at the same time as the settling of Serbs in northern Mitrovica and north of Kosovo. Serbia has brought hundreds of families from the north and has built hundreds of homes to colonize the north. In a year, Belgrade invests millions of euros to divide Kosovo", he says.
Wanting to remain anonymous, several residents told IBNA that Serbs are engaging their parallel structures to implement a plan which aims at controlling the entire north according to the guidelines issued by Belgrade.
But authorities in Kosovo talk about a different reality. Former Prime Minister of Kosovo, current president, Hashim Thaci says that on 25 July 2011, he had taken a decision based on the Constitution of Kosovo to exert full sovereignty of the north of Kosovo.
"At that time, we sent special police units to put the border crossing points under control and to paralyze Serb parallel structures. This operation saw the heroic fall of police officer Enver Zymberi", said president Thaci.
According to him, after this event, situation in this part of the territory has become more stable.
"Today there are no barricades there, people enjoy freedom of movement, they have been integrated in the ranks of police forces, justice system and the first movements have been made on a local and central government level. Great progress has been made in these past five years, but there's still work to do", he said.
He says that the July 25 decision has buried once and for all Serbia's claim for the division of Kosovo.
"This decision has obliterated any hope for the creation of any kind of autonomy for Serbs in that part of Kosovo or the creation of a 'Srpska Republic' model. Thus, in one way or another, Serbia's aspirations for that part of Kosovo have been destroyed", Thaci said.
Since 1999, parallel Serb structures have paralyzed the north of the city with the occupation of the hospital, courts, faculty, and schools. The homes of Albanians have been also occupied and Albanian population is not allowed to move in this part of the city.
The barricade on the Iber River bridge continues to remain there, although Brussels has demanded for it to be removed. /balkaneu.com/