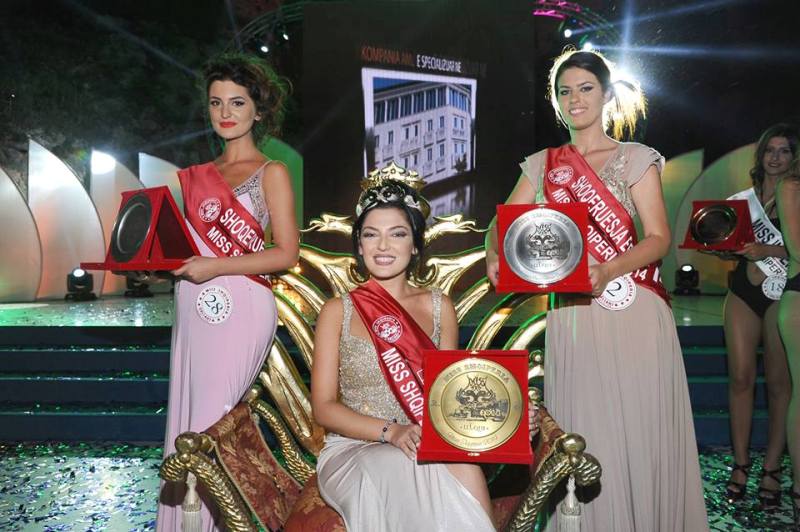 Tirana, June 30, 2014/Independent Balkan News Agency
The 19 year old girl from Tirana, Anisa Petrla, dominated among the 31 beauty queens that participated this weekend in the "Miss Albania 2014" contest in Montenegro.
The show was hosted at the Castle of Ulcinj. The contenders were 31 girls from Albania, Kosovo, FYROM and Montenegro. After the presentation of the contenders, the selection of the ten best ones and the voting of the jury, the winner of this edition is the 19 year old from Tirana, Anisa Petrla (photo).
Florenza Lekstakaji has handed the crown to the winner, who will represent Albania at "Miss Globe 2014".
The first runner up was Kristi Pejo, 20 years of age from Tirana and the second one is the 22 year old from Skopje, Sara Ymeri.
The show was hosted by Orinda Huta and it saw performances by prominent names of the Albanian music, such as Irma Libohova, Aleksander Gjoka, Elton Deda, Redon Makashi, Mihrije Braha, etc.
This year's members of the jury were important names of art, culture, media, etc., who gave several awards. Kledi Kadiu, Arlinda Dudaj, Virgjil Kule and Ylljet Alicka, as members of this jury, also gave awards for "Miss Intelligence", "Miss Cinema", "Miss Press", "Miss Smile", etc.
The rest of the jury, Holta Dulaku, Amarda Toska, Mark Frroku, Ardit Cela, mayor of Ulcinj, Fatmir Gjeka and Miss Albania 2013, Florenza Lekstakaj, have voted about the best beauty queens of this year's edition.
The residents said that the presence of the beauties had given more life to the tourist coastal city of Ulcinj. This show has been followed not only by the residents of Ulcinj, but also by a large number of people coming from Albania and Kosovo. /ibna/