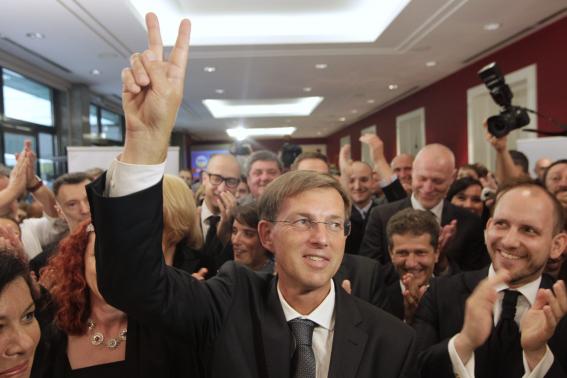 Review Hari Stefanatos
According to unofficial results, Miro Cerar's newly established SMC party achieved a landslide win in Sunday's general elections in Slovenia.
Seven parties has made it to Parliament, among which is not the People's Party (SLS) for the first time in 24 years. On the other hand, a coalition of radical left parties made it to Parliament.
As things stand, with 99.94 of the ballots counted by the National Electoral Commission, the seat allocation in the 90-strong National Assembly are as follows. SMC gets 34.61% of the vote (36 seats), followed by the Democratic Party (SDS) with 20.61% (21 seats). Third comes the Pensioner's Party (DeSUS) with  10.21% (10 seats), ahead of the big surprise of the elections the United Left, a coalition of leftish parties, which got 5.97% of the vote (6 seats). In fifth place is the Social Democrats Party (SD)  with 5.95% (6 seats), which represents the worst election result for the party to date. Rounding out the parliament are New Slovenia (NSi) with 5.54% (5 seats) and the Alliance of Alenka Bratušek (ZaAB) with 4.34% (4 seats).
The oldest Slovenian Parliamentary Party, the SLS appears to be marginally falling to achieve the 4% threshold to enter into Parliament, having at this hour gotten just 3.98% of the vote.
The rest of a total of 17 parties vying for seats in parliament are far below the parliament threshold.
Aside from the SLS, the currently ruling Positive Slovenia (PS; 2.96%) and the Citizens' List (DL; 0.63%) have failed to get re-elected.
(Source: Sloveniatimes) (photo: Reuters)