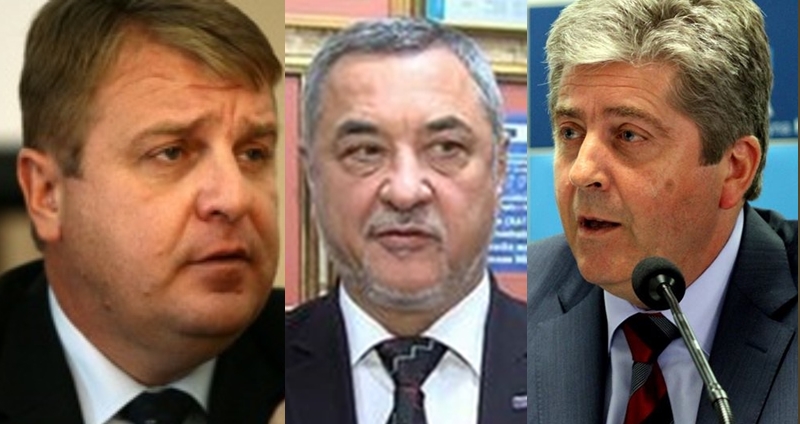 Sofia, December 4, 2014 / Independent Balkan News Agency
By Clive Leviev-Sawyer of the Sofia Globe
Bulgarian socialist breakaway minority party ABC could withdraw its support from Prime Minister Boiko Borissov's centre-right coalition cabinet if a "critical mass" is reached in discrepancies between between cabinet policies and prior policy agreements, ABC leader Georgi Purvanov said on December 4.
His statement came two days before nationalist coalition Patriotic Front (PF) is due to meet at senior leadership level to decide whether it will withdraw its support for the Borissov government voted into office by Parliament on November 7.
PF co-leader Valeri Simeonov repeatedly has threatened withdrawal of support over appointments made since Borissov's GERB-led cabinet came to power. The PF's coalition council met on December 3, with Simeonov saying that the council had taken a decision on the issue, but declining to disclose what the decision was.
Predictably, Russian president Vladimir Putin's December 1 statement that Russia was scrapping the South Stream project, citing what he saw as Bulgarian obstruction of it, added to turbulence in Bulgarian politics – with socialist politicians who continuously have supported the Russian project going on the attack against Bulgarian leaders who have had reservations about it.
Speaking at a news conference on December 4, Purvanov claimed that the suspension of South Stream would cost Bulgaria the possibility of 5000 new jobs and the country would face an electricity price increase while Turkey – now stated by Putin as the partner of choice for an alternative gas pipeline project – would get an electricity price reduction.
Asked whether ABC – which has 11 MPs out of 240 and signed on to support the Borissov government, getting a deputy prime minister's post in return – would withdraw its support over the South Stream issue, Purvanov said that it would take a critical mass of discrepancies between government policy and the prior policy agreement for this to happen.
"Bulgaria needs a stable government," Purvanov said. "We are striving to be a factor for stability".
The PF, meanwhile, reportedly was holding talks with the centre-right Reformist Bloc coalition, the minority partner in the Borissov cabinet, to resolve differences about personnel appointments in the government.
The PF has taken exception to two appointments, one a deputy defence minister, the other a regional governor of Sofia, from a Reformist Bloc constituent party that Simeonov alleges is a "pro-Turkish" party.
The PF's other co-leader, Krassimir Karakachanov, told reporters after the PF coalition council meeting on December 3 that there was "some idea of a solution" to the question of whether to continue supporting the Borissov government.
Separately, Simeonov said in a television interview that the government had implemented 70 per cent of the PF's programme "and that is why it is so difficult to decide whether to withdraw our support".
Earlier the same day, Reformist Bloc parliamentary group co-leader Radan Kanev said that the bloc would not make bargains with the PF about appointments and would not retreat from its policy positions.
He was responding in part to speculation of a trade-off, whereby the two Reformist Bloc constituent party appointees would be withdrawn in return for the withdrawal of the PF's Slavi Binev as head of Parliament's committee on culture and the media.
There has been public outrage at the Binev appointment, part of a deal on the sharing out of committee chairpersonships among parties in power or who are supporting the government.
Binev's lack of background in the field of culture, his business career, his CV of ultra-nationalist politics and his hostility to public broadcasters Bulgarian National Television and Bulgarian National Radio all have contributed to opposition to Binev retaining the committee chairpersonship.
On December 3, hundreds of people held a public protest in Sofia, among them leading theatre directors and other prominent people from the arts and culture world in Bulgaria, against the Binev appointment. Among those protesting was a senior state theatre director who resigned in protest against Binev heading the parliamentary committee.
Binev has refused to step down, saying that he is the best person for the job, and adding that he would do so only if told by Simeonov. Known for, among other things, his ownership of a pop-folk nightclub and security company interests, Binev said that he brought management skills to the post and those who wanted him out feared the reforms he would bring.