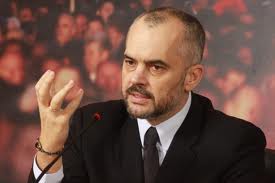 Tirana, April 25, 2013
The Ministry of Foreign Affairs has reacted today about the incident that involved the chairman of the Socialist Party, Edi Rama with the Albanian diplomat in Vienna, Egin Ceka.
The vice Minister of Foreign Affairs, Edit Harxhi said for the media that the Ministry of Foreign Affairs has been informed by the Albanian ambassador in Vienna that an incident took place during a meeting with the Diplomatic Academy of Vienna, where Rama was participating.
"During this meeting, where there were a lot of diplomats not only from Albania, but also from Kosovo and FYROM, the image of the Republic of Albania has been insulted, when one of the Albanian diplomats, Egin Ceka has approached the leader of the SP, Edi Rama and asked him about a point that Mr. Rama had reiterated several times, the voting of emigrants in embassies. Rama reacted by saying that this voting was not possible as a result of the politicization of the diplomatic service. On his part, Mr. Ceka has approach and said to Mr. Rama that the Albanian diplomacy and the embassies are not politicized", said Harxhi.
The vice Minister says that the leader of the SP initially demonstrated verbal violence and then physical violence, which degraded in open conflict between them, by demanding to Mr. Ceka to leave the room.
Harxhi said that he insults used by the chairman of the opposition are not decent for the leader of a party, especially against a diplomat.
Domestic media inform that Egin Ceka has asked explanations from the head of the opposition about his insulting behavior, but the latter has not spoken and has just grabbed him by the year.
The incident in question has taken place in the Vienna Diplomatic Academy, during the time when the head of the Socialist Party, Edi Rama has been in an official visit in Austria. Egin Ceka is the son of the Albanian ambassador in Italy, Neritan Ceka.
Meanwhile, the incident that was denounced by the Ministry of Foreign Affairs was rejected by the Socialist Party. The SP announced that there had been no physical incidents in the Political Academy of Vienna between the chairman of the SP, Rama and the diplomat, Egin Ceka.
"Ceka has approached to Rama by uttering a large number of insults against the opposition. Rama has tried to calm him down and the participants have removed him from the premises of the Academy", states the Socialist Party.  /ibna/