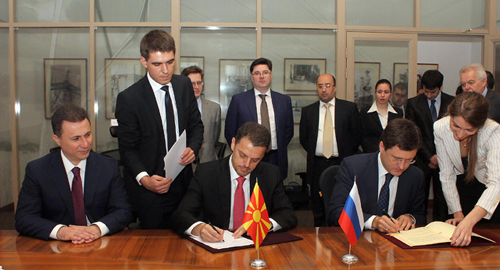 Skopje, July 31, 2013
On its official web page, the Ministry of Finance has published today the agreement reached with the Russian Federation which makes FYROM part of the "Southern Stream" pipeline.
The agreement secures amounts of gas for FYROM which means that a branch will be built which will take gas to the country. FYROM's branch will come from Serbia and Bulgaria.
FYROM signed the agreement with the Russian Federation on July 23 in Moscow, while both countries agreed that this is a good basis for the intensification of economic cooperation between the two countries.
After a period of negotiations, the government managed to make FYROM part of this project.
The agreement is a basis for further development of gasification in FYROM and economic development of the country because in the future, industrial businesses will have access to natural gas.
The construction of Southern Stream started last year. 2015 is expected to see the construction of the sea branch in the Black Sea up to Europe, while the project is expected to be finalized in 2018. /ibna/