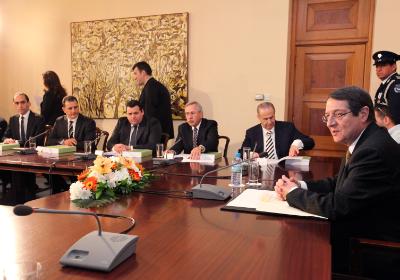 Review Hari Stefanatos
During an extraordinary session of the council of ministers that took place at the Presidential Palace on Friday morning, all members of the cabinet handed in their resignations to the President of the Republic of Cyprus, Nikos Anastasiades.
This was an unexpected development, since only the four ministers that had been put forward by the DIKO, after the party's decision to leave the government coalition, were expected to resign. However, shortly after the meeting began it was made known that all ministers will hand in their resignations.
Foreign Minister Ioannis Kasoulides spoke to the press at the Presidential Palace after the meeting and said that President Anastasiades asked the Ministers to remain at their posts until March 15.
(Source CNA)