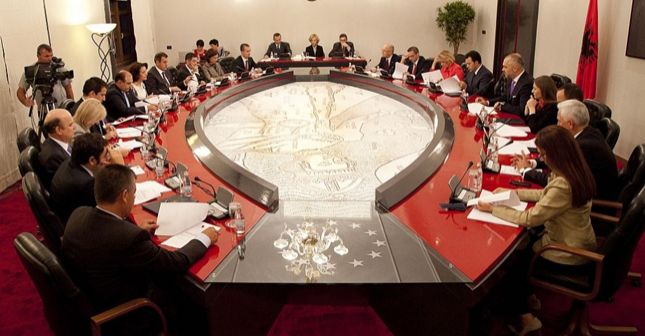 Analysts say that giving up on the MP mandate abandons and disappoints voters
Tirana, December 17, 2013/ Balkan Independent News Agency
4 months after they obtained their MP mandate, 7 ministers of the governing coalition have given up on their mandate on Monday by holding their ministerial posts.
The ministers from the Socialist Party that gave up on their mandate are: Eglantina Gjermeni, Minister of Urban Development and Tourism, Milena Harito, Minister for Innovation and Public Administration, Erion Veliaj, Minister of Social Welfare and Youth and Ilirian Celibashi, Minister for Relations with Parliament. The ministers of the Socialist Movement for Integration in the coalition led by premier Edi Rama, who give up on their mandate are Klajda Gjosha. Minister of European Integration, Edmond Haxhinasto, Minister of Transport and Infrastructure and Nasip Naco, Minister of Justice.
Speaking on Tuesday about the decision that has been taken, Minister for Relations with Parliament, Ilirjan Celibashi said: "We are fulfilling a political commitment to avoid double functions and to focus on our executive roles".
The resignations as MPs of the seven ministers follow the request of prime minister Edi Rama for all ministers who have been elected MPs to hold only one of these offices.
Some say that this is a debatable decision as MPs are elected by the people based on an electoral system which indicated the constituency of each MP.
Analysts say that giving up on the MP mandate abandons and disappoints voters.
Minister for Relations with Parliament, Ilirjan Celibashi is an MP in the constituency of Fier. He said that he assures voters of Fier that "his engagement toward them is a long term process in which he's entirely committed in keeping the electoral promises and improvement of their life".
This declaration doesn't convince voters. Some say that their right of vote has been violated. "Throughout the entire electoral campaign, I have heard many promises by all candidate MPs. I have heard a lot and at the end, I made my choice. I voted for the candidate of the Socialist Party. Now my MP is leaving. Where did all the promise that I believed go? How can he meet any of them if he's not in Parliament?", says a 40 year old man with skepticism when he was contacted by phone in order to provide his opinion on the collective resignation of several ministers from their mandates as MPs. /ibna/