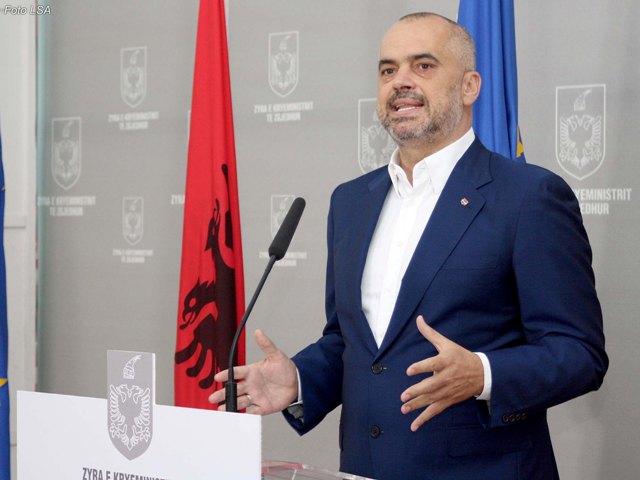 Tirana, October 27, 2014/Independent Balkan News Agency
In a meeting to discuss measures on preserving energy and fighting environmental crime, the prime minister of Albania, Edi Rama declared that today marks the start of a massive operation, which will bring back peace in the energy system, by turning energy into an asset which is not stolen and which is a source of welfare and economic growth.
He said that the operation is launched throughout the country and that theft of electricity is theft like all the others and whoever steals it, will be sent to prison for three years.
The head of the government declared that it's not poverty the reason that drives someone to steal power supply, by saying that this is proven by the fact that there's not even one pensioner who steals electricity.
Rama said that Albania is the second in Europe in terms of its energy potentials and that within four years, the energy sector will turn into a profitable sector.
Gjiknuri: An operation against those who abuse with electricity to prevent the collapse of the system
Minister of Energy and Industry, Damian Gjiknuri declared during this meeting that big reforms are required in the energy sector.
Gjiknuri said that an operation plan is in place against the theft of electricity, while he considered the action against those who steal energy as an important thing to prevent the collapse of the energy system.
As far as the engagement of police forces is concerned, he said that there must be support from the justice institutions, due to the current situation.
Tahiri: Nobody will be privileged
Minister of Interior, Saimir Tahiri declared that there will no longer be privileged people and that informal Albania will come to an end.
He said that unlawfulness will be fought with the full extent of the law, as the citizens voted for a country where there's justice.
"The laws were there and we're merely applying them. This is the moment when Albania will start and lift its head and for everyone to be equal in front of the law. State Police will be ready, because it's time to guarantee justice. State Police has prepared standard procedures and in January of next year, there will be an entire structure which will deal with issues that relate to the theft of energy", declared the Minister of Interior. /ibna/