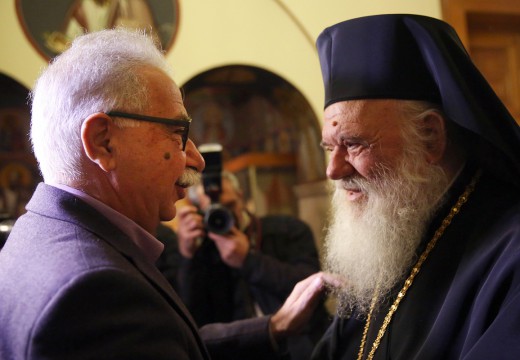 Minister of Education and Religious Affairs Kostas Gavroglou will have a series of meetings with the Ecumenical Patriarch Bartholomew, Archbishop Ieronymos, the Archbishop of Crete Irenaio and with the Holy Metropolises of the Dodecanese, in order to clarify and illustrate the points of the agreement framework between the Prime Minister and the Archbishop.
These contacts are made by order of the Greek Prime Minister, as Athens considers that the reactions of the hierarchs to the pre-agreement are largely due to the fact that some of its points have not been sufficiently clarified. Most importantly, the question of the salary of the 10,000 priests currently covered by the public spending authority.
As pointed out by the government's spokesman, the draft agreement provides for the legislative safeguarding of clergy payroll, which is not legally and institutionally recognized today as a return of the State to the Church. In any case, the government's intention is to proceed with the drafting of a relevant draft law, in the spirit and scope of the joint communiqué.
The aim is the exhaustive dialogue for a consensus
Without a clear timetable, the government executive estimates that, in the face of the possibility of resolving an 80-year issue, one or two months are not considered a pressure. The aim is to do this after substantial dialogue and consensus as, the Maximos Mansion argues, this is an agreement that is beneficial to both sides. The same has been claimed by Archbishop Ieronymos.
It is worth noting, however, that the government spokesman as well as a number of officials reiterated that the church must understand that there are issues that fall within the exclusive competence of the State. Among them is whether the priests will be in the public sector or not. "If this step – which is for the benefit of the Church – is not wanted by the Church, then it rather leaves the initiative of the decisions exclusively to the State", Dimitris Tzanakopoulos said"./IBNA