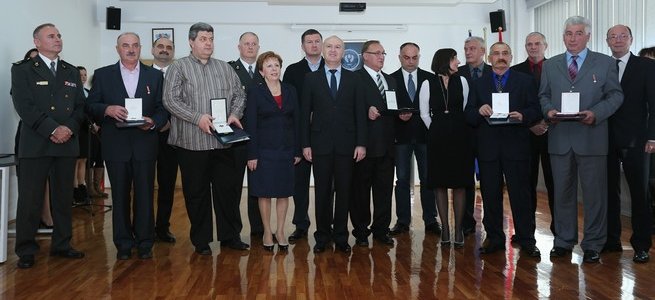 Zagreb, December 19, 2014/ Independent Balkan News Agency
By Marija Avramovic
Minister of Veterans Predrag Matic decorated today nine prominent veterans of the Homeland War.
"All Croatian war veterans have contributed to the Homeland War in their own way, but the medals are for those who have given something more, who have put slightly more effort and some of them even a lot more", Matic said.
'We will carry these decorations with honour and pride", Ivan Jankovicsaid,  expressing his gratitude on behalf of the decorated veterans for the recognition of their contribution to the war years.
Minister of Veterans urged the protesters in front of his ministry to go to their families and be with them for the Christmas holidays.
On yesterday's session of the Government, the article on pension insurance, which would divide veterans' pensions into the sections relating to veterans and working lives was postponed, and thus one of the veteran's demands who have been protesting for two months in Zagreb, has been met.
The defenders, said Mrsic, sought the delay because they believe that the separation on the part of the defending and work experience would lead to a reduction in their pensions, that they would be calculated in some other way.
'We clearly claim that there will be no changes either in the calculation of pensions nor in theirs amount", Mrsic emphasized.
He added that a commission will be formed to control the process during the six months delay of implementing the Regulation on the separation of veterans' pensions into two parts.