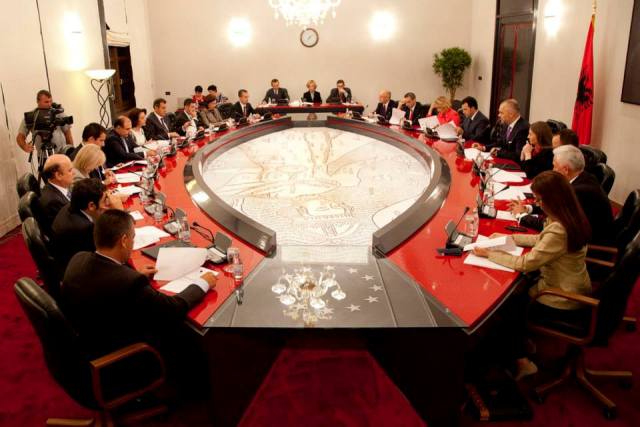 Tirana, October 9, 2013
At the end of the government meeting, Minister of Interior, Saimir Tahiri has delivered a press conference to announce the decisions that were taken.
Minister of Interior declared that the Council of Ministers decided the removal of Hysni Burgaj from the post of General Director of State Police and his replacement by the new director Artan Didi.
Amongst others, Tahiri said that he has signed discharges amongst police, considering it as an important part of the reform in the State Police.
According to him, those who will not be in the General Directorate of Police will serve in police stations.
He also said that Road Police has joined the main structure of State Police.
Tahiri thanked those police officers who have left duty for their services, while stressing that the new heads of police have been selected based on their integrity and formation.
Meanwhile, the minister confirmed that the Council of Ministers decided the creation of a Task Force for protection of the environment and regulation of the territory, while stressing that this Force will analyze the territory and the places where there's an urgent need for intervention, will approve a draft plan for interventions in these areas and will coordinate work with the structures.
New heads of police:
Artan Didi-General Director of the State Police
Sokol Bizhga-Vice General Director of the State Police
Ardian Çipa-Head of Tirana Police