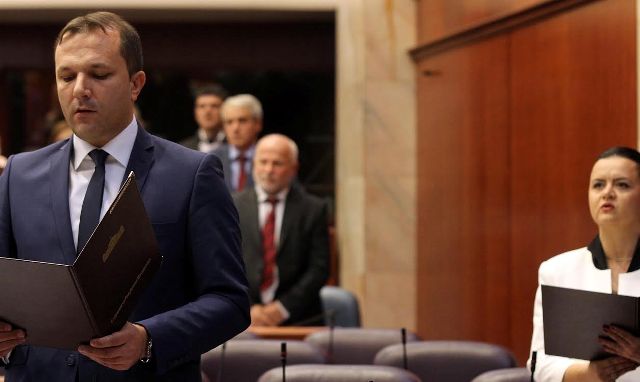 Skopje, 13 November 2015/Independent Balkan News Agency
By Naser Pajaziti
New Minister of Interior, Oliver Spasovski has sent a circular last night to all the directorates of this ministry and to all precincts, to inform their heads that the orders and powers given by the previous interior ministers are no longer valid.
"As a newly elected minister, based on the powers that the law gives me, I would like to inform you that the orders and powers given to directors and police chiefs are no longer valid", Spasovski's letter says.
But this decision has sparked the reaction of the party in power, VMRO-DPMNE. Former minister of Interior, Gordana Jankulovska said that "Since the very first day in office, Oliver Spasovski handed power to criminals. Will he be able to sleep during the night now!?"
But, current MP and former Interior minister, Pavle Trajanov said that the new minister of Interior, Spasovski has the legal power to take such step.
"Based on the law for the Ministry of Interior, the minister is the one who takes all measures", Trajanov declared. According to him, if the minister believes that all powers must be taken from the heads of the ministry of Interior, then this is what should happen.
SDSM (Social Democratic Union) said that this decision has been taken with the scope of establishing law and order within the ministry.
"There will no longer be ministries dominated by the party. State institutions will no longer be abused with. The ministry of Interior will be at the service of all citizens and not of just one party, as it's been the case so far", SDSM declared.
The new Interior minister, Oliver Spasovski was elected based on the agreement of political parties to overcome the crisis.
Spasovski takes office as the number two of the largest opposition party SDSM, where he holds the post of secretary general of the party. /ibna/